Eraldo Bellini
Libri dell'autore
Questioni di bioetica nel Seicento italiano: Fabio Chigi, Virgilio Malvezzi, Sforza Pallavicino
digital
formato:
Articolo
| AEVUM - 2017 - 3
ln 1642 Fabio Chigi (at that time nuncio in Colonia and some years later Pope as Alexander VII) underwent surgery to resolve his medical problems due to kidney stones (then named «mal di pietra»)...
Due lettere sulla peste del 1630. Mascardi Achillini Manzoni
digital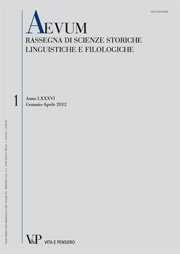 formato:
Articolo
| AEVUM - 2013 - 3
In 1630 a pamphlet with the title Due lettere l'una del Mascardi all'Achillini,...
Calvino e Montale
digital
formato:
Articolo
| AEVUM - 2012 - 3
SUMMARY: This essay traces the influence of Montale on Calvino's work. An explicit aim at imitating Montale marks already Calvino's early and still insecure poetic attempts. In the same way, themes and symbols of Montale's "Ossi di seppia" and "Occasioni" appear in works such as "Sentiero dei nidi di ragno" as well as in Calvino's short stories ("Racconti"), and more generally in his works of the Fifties and Sixties. Moreover, Calvino considered Montale an exemplary writer, able to affirm the highest moral and civil values during the fascist period and who, in the post-World War II period, defended his 'creative loneliness' with respect to the futile communication rituals of modern mass culture.