Giliola Barbero
Libri dell'autore
Nuovi manoscritti di Giovanni Battista Lorenzi copista e segretario milanese
digital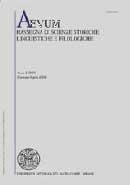 formato:
Articolo
| AEVUM - 2010 - 3
Two early 16th-century manuscripts of the Trivulzio family's private library in Milan, MSS Triv. 2079 and Triv. 2096, transmit works composed by Arcangelo Madrignani and Francesco Scauro and dedicated to Gian Giacomo Trivulzio (1440-1518). Both MSS appear to have been written by the Milanese copyist Giovanni Battista Lorenzi and are to be added to the corpus of manuscripts attributed to his hand by Albinia de la Mare and Jonathan J.G. Alexander. Moreover two parchment documents held in the Archivio di Stato of Milan (Diplomi e dispacci sovrani, Milano, cart. 9, s. d. and Cimeli, cart. 1, c 20, 1 oct. 1511) are here identified as written by the same copyist. In 1515 Lorenzi was a secretary of Massimiliano Sforza.
Il codice Visconti di Modrone 3
digital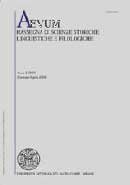 formato:
Articolo
| AEVUM - 2008 - 3
Three humanistic manuscripts from the family library of Duke Visconti di Modrone have been deposited at the Università Cattolica del S. Cuore, where they now are with the family's archives. The main series of the Archives concern the family's business and factories (19th and 20th Centuries); other series are older and include a collection of late medieval documents. The codices now given in deposit were studied by important Italian scholars in the 19th and early 20th Century. They are: MS Visconti di Modrone 1, a Petrarch manuscript, dated 1399, followed by a humanistic miscellany; MS Visconti di Modrone 2, a collection of Chancery letters from the Visconti milieu (Milan, early 15th Century); MS Visconti di Modrone 3, a nice 15th-Century copy of Gasparino Barzizza's Epistole ad exercitationem accommodate in its original blind-stamped leather binding.