Silvia Fazzo
Libri dell'autore
Le récit ancien sur l'assemblage de la Métaphysique d'Aristote: sa réception, ses implications, ses origines
digital
formato:
Articolo
| AEVUM - 2018 - 1
This paper deals with the most ancient tale about the way and the time Aristotle's Metaphysics was composed. This is found at the beginning of Asclepius' commentary in Metaphysicam (4.4-16 Hayduck). If we consider the general context which the tale seems to presuppose, its interest is twofold: it witnesses for a time when the Metaphysics could still be regarded as an unfinished work...
Lo stemma codicum dei libri Kappa e Lambda della Metafisica: una revisione necessaria
digital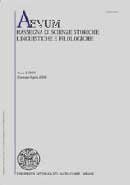 formato:
Articolo
| AEVUM - 2010 - 2
This article is devoted to the textual transmission of Aristotle's Metaphysics books Kappa and Lambda, with special reference to manuscript Ab (Florence, Laur. 87.12), which often disagrees with the most ancient manuscripts of the Metaphysics (E and J). It has played a prominent part in the XIXth and XXth century editions and has been regarded as evidence for an independent tradition, possibly going back to antiquity, to Aristotle's times, or to a papyrus exemplar. But it appears that this cannot be true for the last books of the Metaphysics: in 1979 Harlfinger showed that for the final part of book Lambda (1073a to the end) and for the whole of books My and Ny, Ab belongs to the same a family as E and J, and therefore it is not a witness to a b family. In Harlfinger's footsteps, the present article goes further and argues that this is the case for the final part of book Kappa (1065a to the end) and for the whole of book Lambda.
La versione araba del περι προνοιασ di alessandro di afrodisia e i frammenti greci nel trattato contra iulianum di cirillo alessandrino
novità
digital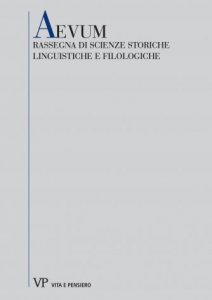 formato:
Articolo
| AEVUM - 2000 - 2
Consulta l'archivio
Ultimi 3 numeri
Annate disponibili online
Fascicoli anno
2018