Risultati della ricerca
"Per molto tempo rimasi nella religione della mia infanzia": modelli biblici nelle opere di Italo Svevo
digital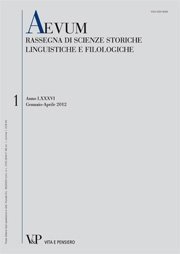 formato:
Articolo
| AEVUM - 2013 - 3
| anno: 2013
| numero: 3
Quotations or echoes of the Bible, found in several works of Svevo, are listed and discussed in...
Cicerone e la laudatio Porciae: l'elogio di una donna trait d'union fra due famiglie filo-repubblicane
digital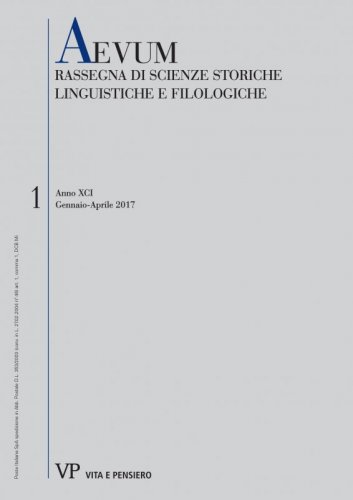 formato:
Articolo
| AEVUM - 2017 - 1
| anno: 2017
| numero: 1
The aim of this paper is to reflect on the laudatio Porciae, an oratio scripta, written by Cicero to praise Porcia, Cato of Utica's sister, on her son's Domitius request and her nephew Brutus. Since there is no part of this eulogy it is only possible to suppose its contents, basing on the characteristics of the others feminine laudationes known of the I century B.C...
Due lettere sulla peste del 1630. Mascardi Achillini Manzoni
digital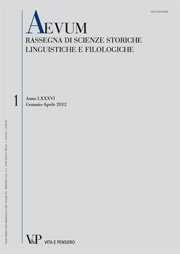 formato:
Articolo
| AEVUM - 2013 - 3
| anno: 2013
| numero: 3
In 1630 a pamphlet with the title Due lettere l'una del Mascardi all'Achillini,...
Mero` (?) e Niceneto: due sconosciuti?
digital
formato:
Articolo
| AEVUM - 2012 - 1
| anno: 2012
| numero: 1
SUMMARY: Few fragments survive from the works of two minor Hellenistic poets, Nicaenetus and the poetess Moiro` (or Myro` ), and modern scholars left both of them in obscurity. This paper, based on a deep investigation, now sheds light on their lives and provides a commentary on their poems. Nicaenetus and Moiro` (or Myro` ), who lived in the 3rd century B.C., composed epic poems and epigrams, of which 20 hexameters and 7 epigrams are extant. All the testimonia antiquorum are discussed. Quotations from Nicaenetus are found in later authors (Meleager, Parthenius of Nicaea, the historian Menodotus) and he was known until the late Imperial age, to the mythographer Conon, the metrist Hephaestion, Nonnus of Panopolis and Stephanus of Byzantium. Moiro` (or Myro` ) could have been the initiator of a literary genre, the curse poetry, a genre practiced by Callimachus (Ibis), Euphorion (Chiliades, Imprecations or the cup-stealer, Thrax) and in Latin by Ovid (Ibis).
La colometria della seconda Olimpica di Pindaro in due codici di eta` comnena e in frammenti papiracei: sua antichita` e origine
digital
formato:
Articolo
| AEVUM - 2012 - 1
| anno: 2012
| numero: 1
SUMMARY: MS Vatican Gr. 1312 (late 12th or early 13th century) and MS Milano, Bibl. Ambrosiana, C 222 inf. (last quarter of the 12th century) contain Pindar, Second Olympian, in a colometrical arrangement to be compared with that exhibited by P. Oxy. 2092 and P. Oxy. 5036 (both datable to the end of the 2nd century) and P. Oxy. 1614 (from the 5-6th century). The colometry of both MSS is presented here synoptically and possible patterns governing it are discussed. The arrangement of the Second Olympian could have been settled according to the theory of the metra prototypa explained by Hephaestion. In this perspective colometry can be described as a definite alternation of cola characterized by opposed metrical rhythms, which correspond to two different metrical modulations, framed into a coherent structure: modulations depending on rhythmical homogeneity and on rhythmical contrast.
Venetus A e Ambr. B 114 sup.: due codici del medesimo copista e la loro storia
digital
formato:
Articolo
| AEVUM - 2012 - 2
| anno: 2012
| numero: 2
SUMMARY: One and the same scribe copied MS Venetus A of the Iliad (Venice, Bibl. Marciana, Gr. 454) and MS Milan, Bibl. Ambrosiana, B 114 sup., with Gregory of Nazianzus. Both MSS are studied in their script (with a new method of majuscule letter percentage calculation), codicological structure and ornamentation. A probable common 12th-century owner and the later history of both codices are reconstructed (A in Norman Sicily, then – 14th cent. – in Terra d'Otranto; the Ambrosian Gregory in Epirus). The arrangement of the texts, critical remarks and scholia are explained. The two MSS do not reproduce similar antigrapha. A unites text of a late-ancient codex of Iliad with Apion-Herodoros's hypomnema. There is evidence for a supervisor. On Apion and Herodoros: these names cannot be a forgery by Eustathius, but likely go back to the sixth century. The presence of Choiroboschus in the scholia of A is not proved; the latest author quoted is Orion. Both text and commentary to the Iliad derive from the activity of a Christian Neoplatonic school, presumably Alexandrian. A was assembled on the basis of schedae containing each the commentary on 25 verses, and is an instance of Costantine's VII patronage. Inter alia: the writer and owner of the famous Ambr. C 222 inf. was a clerk of the Department of the Sea, who wrote a Patmian document in 1195. A new edition and translation of the philological epistle of the Anonymus Londinensis is given in the Appendix.
Ariosto e Tasso in due poesie di Pirandello con alcune postille inedite alla Gerusalemme liberata
digital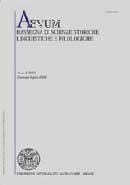 formato:
Articolo
| AEVUM - 2011 - 3
| anno: 2011
| numero: 3
Heroic poems are important in the literary and human experience of Luigi Pirandello, beginning from his first collection of poems (Mal giocondo, Palermo 1889). In this collection two poems, Romanzi II and IX, show a thematic and lexical similarity with Orlando furioso, cantos VI-VIII, as well as a close existential confrontation with Gerusalemme liberata, cantos XIII and XVIII. Likewise, in both poems of Pirandello, the charm of a fairy woman luring a knight to his ruin reveals its very illusory and deceptive nature. Yet, such allure inspires a desire for eternal beauty, existing only in the Earthly Paradise. Pirandello's youthful intuitions become afterwards object of academic study: three different editions of Gerusalemme liberata (now in Rome, Library of the Istituto di Studi Pirandelliani) bear a set of marginal annotations in his hand, which he used in his course on literary style at the Istituto Superiore di Magistero.
Le più antiche pergamene degli Ebdomadari conservate nell'Archivio Storico Diocesano di Napoli
digital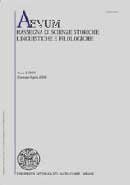 formato:
Articolo
| AEVUM - 2010 - 2
| anno: 2010
| numero: 2
In the Archivio Storico Diocesano of Naples there is a series of 365 parchment documents from the Collegio degli Ebdomadari, called also Confratres Sancti Salvatoris, a congregation active in the Cathedral of Naples. The documents span from 1332 to 1681. The oldest among them, nineteen in number, dating 1332-1353, are here studied and edited or summarized. They include different sorts of deeds: nine chartae venditionis, two chartae promissionis, one charta renunciationis, an obligation, two wills, two pro anima deeds of gift, one charta divisionis and one inductio in corporalem possessionem. The Ebdomadari appear to be active in the acquisition of real estates in a specific zone of Naples (Forcella); in this activity they developed connections with Neapolitan families whose interests were tied to those of important persons of the episcopacy of Naples.
Due problemi di epica arcaica comuni a Prassifane e ad Aristarco
digital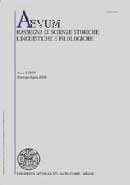 formato:
Articolo
| AEVUM - 2009 - 1
| anno: 2009
| numero: 1
The paper considers two sources, where Praxiphanes and Aristarchus are quoted together about the same grammatical topics on Hesiod and Homer: (A) PROCLUS, Commentaria in Hesiodi Opera, PERTUSI, Proleg. Ac, 2.7-20 and (B) P.Oxy. 1086.11-18. The first text deals with the problem of the prologue of Hesiodus' Erga, which both grammarians obelized as spurious; the second with their interpretation of hysteron proteron in Iliad and Odyssea. An emendation to text A is proposed, as well as two new integrations of lines 12 and 17 of text B. Praxiphanes appears to have been in Thespies (Beotia), where he might have been looking for Hesiodic documents, have found a manuscript without the prologue and have got a honorary citizenship (cfr. IG VII 1752.6-7, with the probable name of his eldest son included in a military list of ephebes); he might also be the authority of Proclus' other two claims against the authenticity of the first 10 verses of the Erga. Aristarchus presumably took his judgment into account. The quotation of Praxiphanes by Aristarchus in the papyrus of the 1st century B.C. seems to be due to his analysis of the double hysteron proteron in Od. 11.170-203. Aristarchus recalled it commenting the first real case in Iliad 2.763, with the purpose to show the same stylistic use in both the poems (homeric sunhvqeia). Praxiphanes, in a different way, studied the double hysteron proteron in Od. 11.170-203 according to the poetic principle of prepon.
La tradizione manoscritta dell'esegesi antica allo Scudo di Eracle esiodeo: due gruppi di codici (sec. XIV-XVI)
digital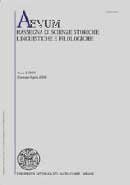 formato:
Articolo
| AEVUM - 2008 - 2
| anno: 2008
| numero: 2
The aim of this paper is to show the relationships between five manuscripts of the ancient scholia to the hesiodic Shield. They can be divided into two groups: the first including mss. Vat. Pal. gr. 425, Rom. Vallicell. F 16, leid. Vulc. gr. 23; the second including Laur. Conv. Soppr. 158 and Par. gr. 2833. The two groups have primarly a close relationship between each other and are in close affinity with the family of Vat. gr. 1332. Remarks on the text of some scholia are added in appendix.
Su Angelo Decembrio: voci e impressioni di due corrispondenti
digital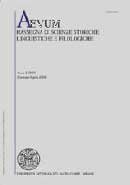 formato:
Articolo
| AEVUM - 2008 - 3
| anno: 2008
| numero: 3
The Milanese humanist Angelo Decembrio is less renowned than his brother Piercandido. Some biographical data are provided by three hitherto unknown texts directed to Angelo: a letter by Francesco Filelfo, preserved in Toledo, Biblioteca Capitular, MS 100.42, dated 1441, in which Filelfo refers to a copy of a Greek grammar, and two little poems by Paolo Porcari, preserved in Ravenna, Biblioteca Classense, MS 274, composed earlier than 1460 and after 1465 respectively. The letter and epigrams are here edited.
Postilla a due sonetti belliani: Er buscio de la chiave e La mormorazzione
digital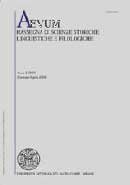 formato:
Articolo
| AEVUM - 2008 - 3
| anno: 2008
| numero: 3
Giuseppe Gioachino Belli hints at the popular Latin adage "solus cum sola non praesumitur dicere rosarium" in two of his sonetti. This saying is quoted or reshaped by Victor Hugo in Notre-Dame de Paris and Les Misérables. Belli was familiar with Hugo's works. Hugo's texts and the Latin original could become crossed in the poet's mind.