Risultati della ricerca
Resti di una silloge epigrafica dell'Archivio Muratoriano, erroneamente attribuita a Tommaso Sclaricino del Gambaro
digital
formato:
Articolo
| AEVUM - 2016 - 3
| anno: 2016
| numero: 3
This paper presents three leaves belonging to an epigraphic collection (now Modena, Estense, Archivio Muratoriano 37.92, cc. 12r, 13b and 13) that were attributed to the Bolognese lecturer Tommaso Sclaricino del Gambaro by Mommsen in CIL. The paper rejects this attribution and suggests to connect these three leaves with the textual tradition of another XVth epigraphic manuscript (Faenza, Biblioteca Comunale Manfrediana, ms. 7)...
Il senatoconsulto del 35 contro i cristiani in un frammento porfiriano
digital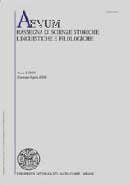 formato:
Articolo
| AEVUM - 2004 - 1
| anno: 2004
| numero: 1
Un frammento porfiriano (fr. 64 von Harnack) conferma la notizia di Tertulliano, Apol. 5, 2 sul senatoconsulto del tempo di Tiberio che, rifiutando la proposta dell'imperatore di riconoscere il Cristianesimo, faceva di questa religione una superstitio illicita, i cui seguaci potevano essere messi a morte come tali. È l'inizio della legislazione anticristiana e la base giuridica delle persecuzioni.
'Nuovi' frammenti delle Ipotiposi di Clemente Alessandrino: Excerpta ex Theodoto, Eclogae Propheticae e il resto del cosiddetto libro VIII degli Stromati
digital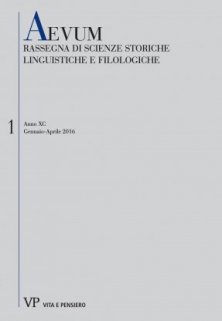 formato:
Articolo
| AEVUM - 2016 - 1
| anno: 2016
| numero: 1
The Stromateis of Clement of Alexandria are preserved by an unique codex, the Laurentianus V 3. The final portion consists of texts that the scholars believe independent works, that is, the Excerpta ex Theodoto and Eclogae propheticae. There is debate, however, whether the sections grouped under the title of 'Book VIII' belong to the Stromateis...
Note in margine agli Scritti petrarcheschi di Agostino Sottili. Linee di diffusione delle opere latine di Francesco Petrarca nei territori del Sacro Romano Impero
digital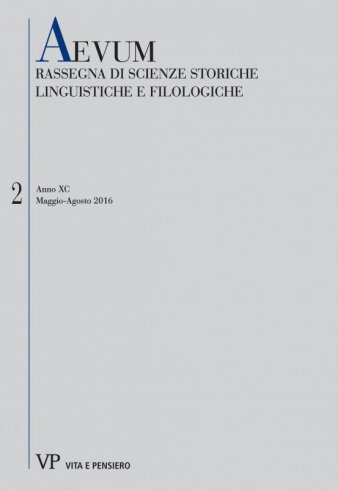 formato:
Articolo
| AEVUM - 2016 - 2
| anno: 2016
| numero: 2
The diffusion of Petrarch's Latin works, with special regard to the German countries in the XV century, follows definite lines as the manuscript tradition coming from there shows. In fact, during this period a substantial number of manuscripts was written and read in monasteries, where Petrarch was appreciated as Christian moral philosopher; an other consistent group was property of students who studied in Italian universities or in the universities of Erfurt, Leipzig and Vienna, and who read his works because of their interest on rhetoric and on the new culture...
San Paolo nella biblioteca del Petrarca: le postille del codice di Napoli e del Par. lat. 1762
digital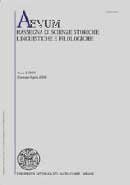 formato:
Articolo
| AEVUM - 2008 - 2
| anno: 2008
| numero: 2
Two manuscripts from Petrarch's personal library concern the Pauline letters: Naples, Biblioteca San Luigi, Ar. I, 50, offering the full text of St Paul's letters with glossa ordinaria, and Paris, Bibliothèque Nationale de France, lat. 1762, containing Pauline commentaries by Ambrosiaster, Haimo of Auxerre, Jerome. Petrarch read and annotated both MSS: the Naples MS between 1350 and 1360; the Paris MS between 1360 and 1370. Maniculae, little flowers, notabilia, some other marginalia bear witness to a deep attention to scholarly questions and to moral and theological issues. Authors quoted are only St Augustine and Cicero. All the notes are here edited and commented, with cross references to Petrarch's marginalia in other MSS and to his works.
Tre osservazioni sui Demi di Eupoli (fr. 17 Telo` = 99 Kassel - Austin): la datazione della commedia, l'identificazione del demagogo e la figura di Solone
digital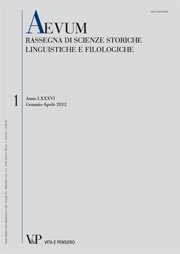 formato:
Articolo
| AEVUM - 2014 - 1
| anno: 2014
| numero: 1
The date of composition of Eupolis' comedy Demoi is a matter of discussion: after a critical review of the evidence, a dating between 417 and 414 is to be rejected in favour of the years immediately before or after the coup d'e´tat of the Four Hundred...
La scrittura diplomatica della Expositio legationis del vescovo Ambrogio a Valentiniano II (Ep. 30 Faller [Maur. 24])
digital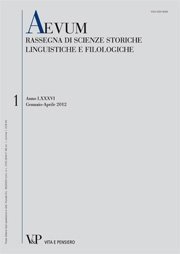 formato:
Articolo
| AEVUM - 2014 - 1
| anno: 2014
| numero: 1
St. Ambrose's letter to emperor Valentinianus II is a report (relatio) of his diplomatic mission to Magnus Maximus, between 384 and 387...
Livia oomantís: la metáfora del nacimiento de Tiberio y el gallo-Sol de la realeza. Entre adivinación, astrología y magia
digital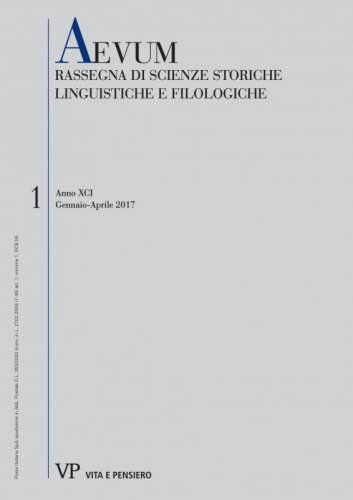 formato:
Articolo
| AEVUM - 2017 - 1
| anno: 2017
| numero: 1
The purpose of this study is to examine, from a rational point of view, the story occurred in the year 42 BC and related by Pliny and Suetonius. According to these roman authors, a very young Livia Drusilla (future wife of Octavius) at the age of 15-16 years and being pregnant carried out and oomantic ceremony, in order to guess the sex of the child she was carrying and make sure it was a boy...
"Il Sogno profetico sulla Grande Guerra": Dmitrij Merežkovskij e il problema della difesa della pace nel XX secolo
digital
formato:
Articolo
| AEVUM - 2016 - 3
| anno: 2016
| numero: 3
Rejection of war and preservation of peace constitute an important theme in the work of the very significant Russian writer and religious philosopher Dmitry Merezhkovsky (1865-1941). Merezhkovsky's attitude towards the war was shaped by Russia's defeat in the conflict with Japan (1904-1905) and by the first Russian revolution of 1905-1907...
Il sogno del re: Amalrico di Gerusalemme, Bernardo di Clairvaux e la reliquia della Vera Croce
digital
formato:
Articolo
| AEVUM - 2013 - 2
| anno: 2013
| numero: 2
The latin kings of Jerusalem used to send relics of the True Cross to ecclesiastical institutions and prominent laymen in the West as sign of their sacred power and of the needs of the Holy Land. This practice was fostered by king Amalric (1163-1174) who sent a precious pectoral cross to the abbey of Clairvaux after the battle of al-Babein in 1167, when the king was admonished and saved from death by a vision of saint Bernard himself. The text of the whole story (In memoria aeterna) was written on a parchment attached to the precious reliquiary – now lost – made in Clairvaux, but it was also preserved by several manuscripts of the Vita prima sancti Bernardi. A longer version of this text was copied among the letters of canonization of Bernard of Clairvaux in the Clairvaux manuscript Troyes, Mediathe`que du Grand Troyes 6, ff. 2r-3r; this copy is of particular interest both for the crusader propaganda and for the shaping of Bernard's image in Clairvaux on the eve of a major crisis of the Cistercian identity.
La dedica degli Ateniesi per la vittoria su Beoti e Calcidesi del 506 a.C. (IG I3 501) e la data del suo ripristino
digital
formato:
Articolo
| AEVUM - 2010 - 1
| anno: 2010
| numero: 1
The Athenian victory over Boeotians and Chalcidians (506 B.C.) is well attested by literary and epigraphical sources. The Athenians dedicated a four-horse chariot on the Acropolis. Fragments of two dedicatory inscriptions are extant, the 6th-century original and a 5th-century restored copy. An accurate datation of the copy is matter of discussion. This article aims at reassessing the historical context of the restoration in the light of the sources, some of which are usually neglected. The restoration dates back to the fifties, when the Athenians were at the height of their power, rather than to the forties, when they had to face strong difficulties. Moreover, several analogies between the situation of 506 and that of 457 may be detected: as a consequence, the hypothesis of a restoration after the battle of Oinophyta is confirmed.
Un fingido escrito de Terencio a cargo del humanista Andrea Biglia
digital
formato:
Articolo
| AEVUM - 2016 - 2
| anno: 2016
| numero: 2
The ms. London, British Library, Add 10081 includes, as preface to the six Terentian comedies, a curious text by Andrea Biglia (c. 1394-1435) in which the humanist makes the playwright speak for himself claiming a Roman ancestry and, therefore, denying his African provenance believed to be so since Antiquity...