Risultati della ricerca
Cicerone e la laudatio Porciae: l'elogio di una donna trait d'union fra due famiglie filo-repubblicane
digital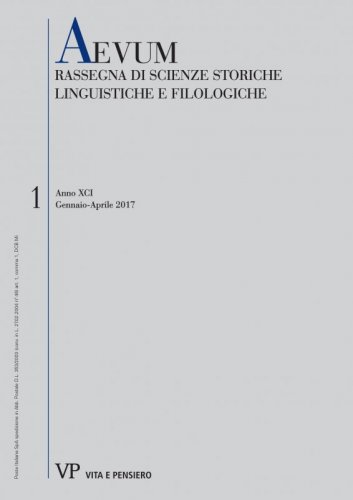 formato:
Articolo
| AEVUM - 2017 - 1
| anno: 2017
| numero: 1
The aim of this paper is to reflect on the laudatio Porciae, an oratio scripta, written by Cicero to praise Porcia, Cato of Utica's sister, on her son's Domitius request and her nephew Brutus. Since there is no part of this eulogy it is only possible to suppose its contents, basing on the characteristics of the others feminine laudationes known of the I century B.C...
La charte de Niquinta. De´bats heuristiques, enjeux herme´neutiques
digital
formato:
Articolo
| AEVUM - 2012 - 2
| anno: 2012
| numero: 2
SUMMARY: The ''Charter of Niquinta'' tells the meeting, in May 1167, at the initiative of the Church of Toulouse, of a multitude of men and women, in the presence of Papa Niquinta and five bishops. This strange document would be the only one that comes from those whom the Roman Church designated as ''heretical'' and whom we call ''Cathars'', but it was known to us, until recently, only through an edition of 1660. Its authenticity has been discussed, but the debate has been particularly strong since 1999. This article traces the positions of the debate, located in the perspective of the various interpretative currents of medieval heresy.
Il senatoconsulto del 35 contro i cristiani in un frammento porfiriano
digital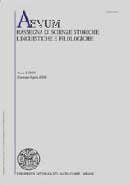 formato:
Articolo
| AEVUM - 2004 - 1
| anno: 2004
| numero: 1
Un frammento porfiriano (fr. 64 von Harnack) conferma la notizia di Tertulliano, Apol. 5, 2 sul senatoconsulto del tempo di Tiberio che, rifiutando la proposta dell'imperatore di riconoscere il Cristianesimo, faceva di questa religione una superstitio illicita, i cui seguaci potevano essere messi a morte come tali. È l'inizio della legislazione anticristiana e la base giuridica delle persecuzioni.
Resti di una silloge epigrafica dell'Archivio Muratoriano, erroneamente attribuita a Tommaso Sclaricino del Gambaro
digital
formato:
Articolo
| AEVUM - 2016 - 3
| anno: 2016
| numero: 3
This paper presents three leaves belonging to an epigraphic collection (now Modena, Estense, Archivio Muratoriano 37.92, cc. 12r, 13b and 13) that were attributed to the Bolognese lecturer Tommaso Sclaricino del Gambaro by Mommsen in CIL. The paper rejects this attribution and suggests to connect these three leaves with the textual tradition of another XVth epigraphic manuscript (Faenza, Biblioteca Comunale Manfrediana, ms. 7)...
Note in margine agli Scritti petrarcheschi di Agostino Sottili. Linee di diffusione delle opere latine di Francesco Petrarca nei territori del Sacro Romano Impero
digital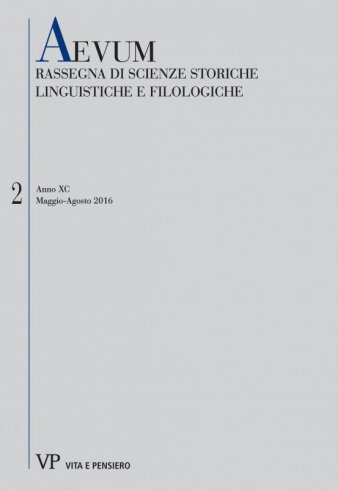 formato:
Articolo
| AEVUM - 2016 - 2
| anno: 2016
| numero: 2
The diffusion of Petrarch's Latin works, with special regard to the German countries in the XV century, follows definite lines as the manuscript tradition coming from there shows. In fact, during this period a substantial number of manuscripts was written and read in monasteries, where Petrarch was appreciated as Christian moral philosopher; an other consistent group was property of students who studied in Italian universities or in the universities of Erfurt, Leipzig and Vienna, and who read his works because of their interest on rhetoric and on the new culture...
'Nuovi' frammenti delle Ipotiposi di Clemente Alessandrino: Excerpta ex Theodoto, Eclogae Propheticae e il resto del cosiddetto libro VIII degli Stromati
digital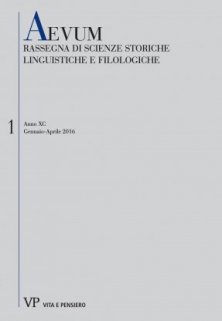 formato:
Articolo
| AEVUM - 2016 - 1
| anno: 2016
| numero: 1
The Stromateis of Clement of Alexandria are preserved by an unique codex, the Laurentianus V 3. The final portion consists of texts that the scholars believe independent works, that is, the Excerpta ex Theodoto and Eclogae propheticae. There is debate, however, whether the sections grouped under the title of 'Book VIII' belong to the Stromateis...
Anglo-Saxon charms and the language of magic
digital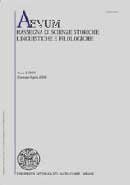 formato:
Articolo
| AEVUM - 2010 - 2
| anno: 2010
| numero: 2
The present paper is part of a literary and linguistic research in progress on nine Anglo-Saxon poetic (metrical) charms, which alternate prose and poetry. Each charm is analysed in its own content and linguistic components in order to offer a precise and exhaustive view of its meaning. The content analysis often refers to the interpretation of images implied in the magic process. The distinctive traits of the Anglo-Saxon culture do really emerge not only with reference to religion, witchcraft and medical science but also to the various aspects of rural life in those times. Among the structural elements and the characteristics which all contribute to the definition of a magical text, the most important are textual communication, style, ritual issues and language. So a pathway of images and meanings can be traced in order to be enabled to define the cultural world and the average Anglo- Saxon's "Weltanschauung". The analysis of what can be defined "magical language" allows to focus on the formal aspects and to connect them to the Anglo-Saxon poetical language. If from one side it can be claimed that there does not exist a properly called magical language, or at least it barely exists, from the other it comes out that the magic power of these texts is embedded in the rite, in the singing rhythm and in the repetition of words and sounds.
San Paolo nella biblioteca del Petrarca: le postille del codice di Napoli e del Par. lat. 1762
digital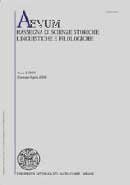 formato:
Articolo
| AEVUM - 2008 - 2
| anno: 2008
| numero: 2
Two manuscripts from Petrarch's personal library concern the Pauline letters: Naples, Biblioteca San Luigi, Ar. I, 50, offering the full text of St Paul's letters with glossa ordinaria, and Paris, Bibliothèque Nationale de France, lat. 1762, containing Pauline commentaries by Ambrosiaster, Haimo of Auxerre, Jerome. Petrarch read and annotated both MSS: the Naples MS between 1350 and 1360; the Paris MS between 1360 and 1370. Maniculae, little flowers, notabilia, some other marginalia bear witness to a deep attention to scholarly questions and to moral and theological issues. Authors quoted are only St Augustine and Cicero. All the notes are here edited and commented, with cross references to Petrarch's marginalia in other MSS and to his works.
Tre osservazioni sui Demi di Eupoli (fr. 17 Telo` = 99 Kassel - Austin): la datazione della commedia, l'identificazione del demagogo e la figura di Solone
digital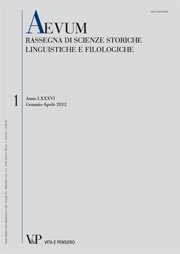 formato:
Articolo
| AEVUM - 2014 - 1
| anno: 2014
| numero: 1
The date of composition of Eupolis' comedy Demoi is a matter of discussion: after a critical review of the evidence, a dating between 417 and 414 is to be rejected in favour of the years immediately before or after the coup d'e´tat of the Four Hundred...
La scrittura diplomatica della Expositio legationis del vescovo Ambrogio a Valentiniano II (Ep. 30 Faller [Maur. 24])
digital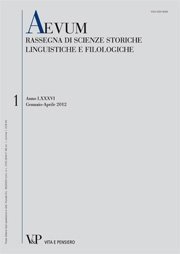 formato:
Articolo
| AEVUM - 2014 - 1
| anno: 2014
| numero: 1
St. Ambrose's letter to emperor Valentinianus II is a report (relatio) of his diplomatic mission to Magnus Maximus, between 384 and 387...
Livia oomantís: la metáfora del nacimiento de Tiberio y el gallo-Sol de la realeza. Entre adivinación, astrología y magia
digital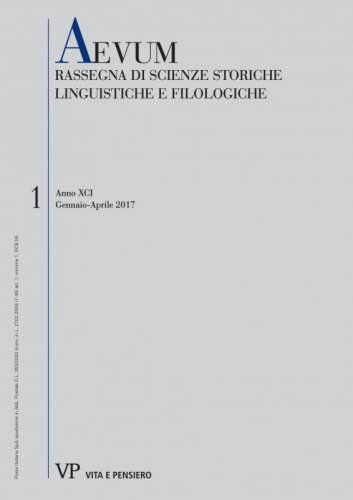 formato:
Articolo
| AEVUM - 2017 - 1
| anno: 2017
| numero: 1
The purpose of this study is to examine, from a rational point of view, the story occurred in the year 42 BC and related by Pliny and Suetonius. According to these roman authors, a very young Livia Drusilla (future wife of Octavius) at the age of 15-16 years and being pregnant carried out and oomantic ceremony, in order to guess the sex of the child she was carrying and make sure it was a boy...
"Il Sogno profetico sulla Grande Guerra": Dmitrij Merežkovskij e il problema della difesa della pace nel XX secolo
digital
formato:
Articolo
| AEVUM - 2016 - 3
| anno: 2016
| numero: 3
Rejection of war and preservation of peace constitute an important theme in the work of the very significant Russian writer and religious philosopher Dmitry Merezhkovsky (1865-1941). Merezhkovsky's attitude towards the war was shaped by Russia's defeat in the conflict with Japan (1904-1905) and by the first Russian revolution of 1905-1907...