Per le prime letture della Rhetorica ad Herennium: il commento del Magister Menegaldus
digital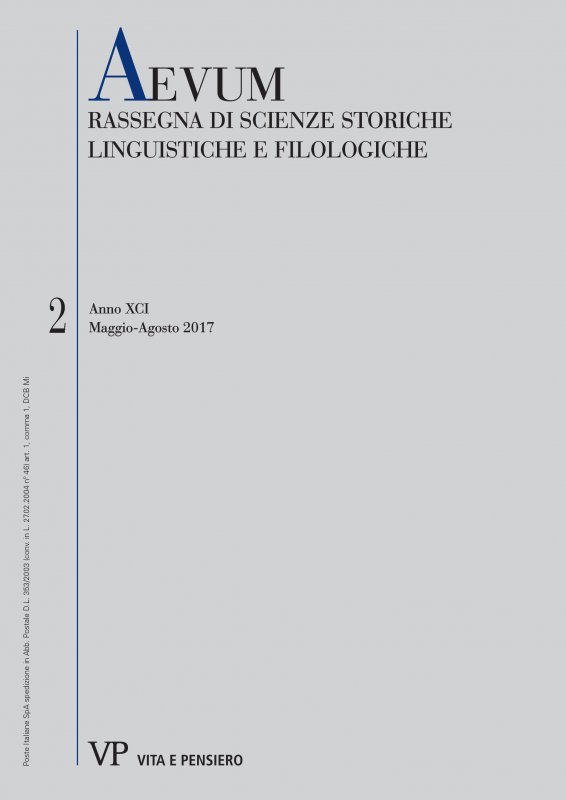 rivista
AEVUM
fascicolo
AEVUM - 2017 - 2
titolo
Per le prime letture della Rhetorica ad Herennium: il commento del Magister Menegaldus
autore
Filippo Bognini
editore
Vita e Pensiero
formato
Articolo |

Pdf

online da
01-12-2017
issn
0001-9593 (stampa)

|

1827-787X (digitale)
Ebook in formato Pdf leggibile su questi device:
The first known Latin commentaries on the Rhetorica ad Herennium, arose between the late 11th and the early 12th century, represent a relevant part of the so-called "renaissance" of that time, when the handbook started to become a real classic, specifically essential for the study of the colores rhetorici. A survey in this field seems to be particularly necessary, for almost all these glosses are hitherto unpublished and thus lacking a proper comparison; and the first step is to be seen in this paper, which provides the critical edition of the glosses of master Menegaldus ("master of the modern masters": probably the first of the new, original readers of this age), kept by some fragments now in Munich and only recently identified. They will be compared with other significant unpublished glosses: especially those produced by Odalric of Rheims and by the still anonymous glosses of the MS. Trier, Bistumsarchiv, Nr. 18.
keywords
rhetoric; Rhetorica ad Herennium; classical tradition; commentaries; Menegaldus.