A proposito del detto greco nell'autografo riccardiano del Buccolicum Carmen di Giovanni Boccaccio
digital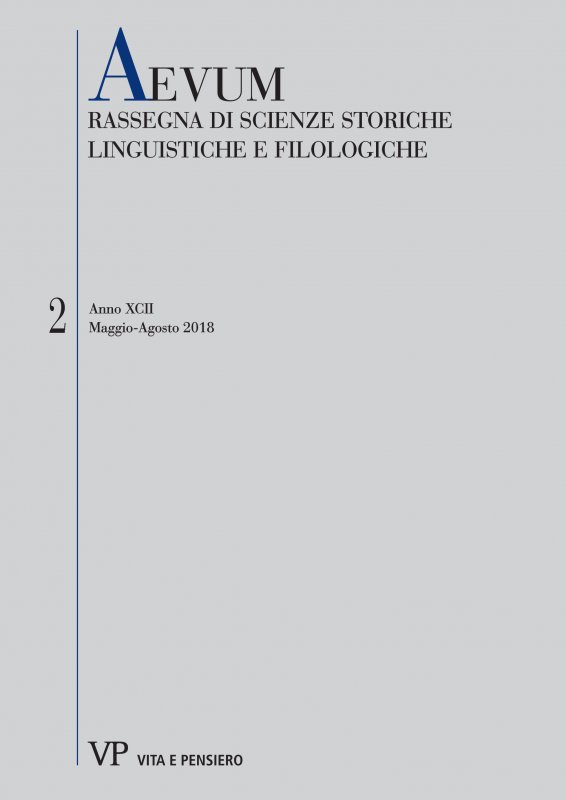 rivista
AEVUM
fascicolo
AEVUM - 2018 - 2
titolo
A proposito del detto greco nell'autografo riccardiano del Buccolicum Carmen di Giovanni Boccaccio
autore
Giuseppe De Gregorio
editore
Vita e Pensiero
formato
Articolo |

Pdf

online da
12-2018
doi
10.26350/000193_000021
issn
0001-9593 (stampa)

|

1827-787X (digitale)
Ebook in formato Pdf leggibile su questi device:
This paper surveys an interesting detail provided by the autograph copy of Boccaccio's Buccolicum carmen (Firenze, Biblioteca Riccardiana, MS 1232). On the last page of the codex, Oskar Hecker (who first identified Boccaccio's hand in this precious booklet) found an isolated Greek phrase, written by the author himself in Latin letters, which can be interpreted as a short proverb. After a reconsideration of the relevant literature, a new reading of this enigmatic phrase and an explanation are proposed. The source has been found in the oral school tradition in Greece, where the dictum (Ἄνθρωπος ἀγράμματος ξύλον ἄκαρπον) has surely spread over the centuries and has been attested (although slightly modified) until today. Boccaccio, who must have heard this motto in Florence from his Greek teacher Leonzio Pilato (1360-1362), recorded it in his copy in order to set it out in writing and memorize it.
keywords
Giovanni Boccaccio, Leonzio Pilato, Greek dicta, school tradition.
Chi ha visto questo prodotto ha guardato anche...
Consulta l'archivio
Ultimi 3 numeri
Annate disponibili online
Fascicoli anno
2018