AEVUM - 2015 - 3
digital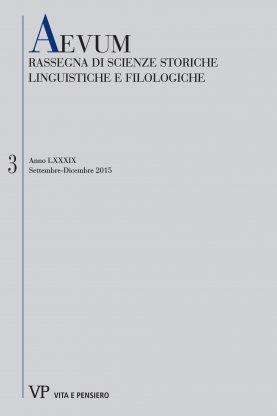 rivista
AEVUM
fascicolo
3 - 2015
titolo
AEVUM - 2015 - 3
editore
Vita e Pensiero
formato
Fascicolo digitale |

Pdf
Ebook in formato Pdf leggibile su questi device:
Terzo fascicolo del 2015
SOMMARIO
The rise and fall of Renaissance Italy
di John Monfasani
pagine: 17
€ 6,00
Abstract ∨
No one denies the historical reality of Italian Renaissance. The question to ask, therefore, is how and when it began, and, consequently, how and when it ended. Starting from the premise that as an historical epoch the Renaissance was not the beginning of modernity nor in some way the anti-Middle Ages, but rather the final and, one might even say, culminating phase of the Middle Ages when Italy took over the cultural leadership of Europe, this essay argues for the distinctive forms of Italian Renaissance culture and society to have come into being in the thirteenth century and to have run to ground in the seventeenth as much that was once new and vibrant became fossilized and backward looking, and as the urban society that gave birth to the Italian Renaissance itself began to suffer a prolonged economic and social crisis. En passant, rejected is the view that the Counter Reformation is mainly responsible for Italy's intellectual decline. John Monfasani, University at Albany, SUNY
Da Ambrogio Traversari a Luca Carducci: aspetti e momenti della riforma camaldolese nell'eta` di Eugenio IV
di Simona Iaria
pagine: 42
€ 6,00
Abstract ∨
The reform of the Camaldulensian Order was one of the objectives of Pope Eugenius IV. For this reason he promoted Ambrogio Traversari to General in charge of the Order (1430-1439). But Traversari's vision for reform and his own diverged: the Pope's reform was based on religious men coming from venetian monasteries and on a model similar to the Congregation of Santa Giustina at Padua; instead Traversari had a different perspective either for the opposition inside his Order or for his own opinion and idea of reform. After Traversari's death, Eugenius IV asked Abbot Gomez and other monks from the Badia fiorentina to come to the Camaldulensian Order. Among these there was Luca Carducci who first became major heremi at Camaldoli, then Prior of Santa Maria degli Angeli in Florence and later Abbot of the rich monastery of San Savino in Pisa. Carducci's loyalty to Pope Eugenius IV's project is evident, but his efforts to bring San Savino to Santa Giustina's Congregation (1466) failed. Because of papal interest on this monastery, Luca ended his life as bishop of Osimo (1474-1484) and didn't take part to the foundation of the Congregation of San Michele di Murano. Simona Iaria, Università Cattolica del Sacro Cuore, Milano
Il testamento e la libreria di Sebastiano Salvini (1512)
di Pierluigi Licciardello
pagine: 36
€ 6,00
Abstract ∨
Sebastiano Salvini (born between 1427 and 1450, died after 1512), cousin of Marsilio Ficino, was a theologian and humanist belonging to the ''Platonic Academy'' in Florence. On February 2nd 1512 he made his will and left several goods to the monastery of San Fedele in Poppi (Casentino), including his collection of 61 books. The will, kept in a memoir of the eighteenth century, is published and analyzed in this article. The books (manuscripts and printed books) are lost for the most part, but some of them are still preserved in the libraries of Poppi and Florence. They show the interests of their owner: a priest careful to the preaching and pastoral care, expert in religious studies (Bible, theology, civil and canon law, liturgy) but also interested in the classics (works of Cicero, Pliny the Elder, Juvenal, Terence, Plutarch) and his contemporaries (works by Leon Battista Alberti, Ermolao Barbaro, Roberto Caracciolo, Petrus Marso, Domitius Calderini, Juan de Torquemada). Pierluigi Licciardiello, S.I.S.M.E.L., Firenze
Per lo studio degli ambienti culturali intorno a Machiavelli cancelliere: nuovi dati su Agostino Vespucci
di Gerard Gonzalez Germain
pagine: 23
€ 6,00
Abstract ∨
During Machiavelli's years as second chancellor, members of the staff formed around him a true friendship network, exchanging both cultural and political ideas. Biagio Buonaccorsi and Agostino Vespucci stand out as Machiavelli's closest friends in that group. Unlike the former, Vespucci has received little attention until he has recently been identified as the humanist who signed as Agostino Nettucci. The paper discusses Vespucci's beginnings in the chancery; his earliest letter to Machiavelli is brought to light – a text known but hitherto not attributed to him –; the content of a now untraceable letter from Vespucci to Buonaccorsi is recovered thanks to a little-known 19th-century French translation, and Machiavelli's historiographic project in that period is re-examined in the light of his coadjutors' collaboration. Gerard Gonzalez Germain, Universidad de Alcala´ (UAH)
Un ''Marte razionale''? Bartolomeo D'Alviano lettore dei classici
di Andrea Del Ben
pagine: 23
€ 6,00
Abstract ∨
The birth of the so called ''Marte razionale'' has been collocated in the milieu of commander in chief of Venetian army Francesco Maria I Della Rovere around 1530 and Bartolomeo d'Alviano was considered a forerunner for his well known expertise in fortifications and territorial asset. Alviano in early 16th century started to transform Venetian army on a regular basis of study on classical writers as Vegetius, Aelian, Sallust and probably the group of humanists who surrounded him – among the others Andrea Navagero, Gerolamo Borgia and Giovanni Cotta – supported him in this try. Andrea Del Ben, Università degli Studi di Udine
Da Marignano a Bologna. Il riavvicinamento diplomatico tra Leone X e Francesco I
di Noemi Rubello
pagine: 19
€ 6,00
Abstract ∨
The paper examines the diplomatic dialogue that started between Francis I of France and pope Leo X in the aftermath of the French reconquest of the Duchy of Milan that ensued from the battle of Marignano (September 13-14 1515). At the beginning, the pontiff and the king conducted negotiations remotly by means of standard diplomatic channels (nuncios, ambassadors, letters, and other written documents). This clever settlement of disputes changed dramatically in December 1515: the two reconciled leaders met in person in Bologna, ushering in a sequence of meetings between princes and popes which became typical of the diplomatic history of the early modern period. Noemi Rubello, Université Paris 1 Panthéon-Sorbonne
Tra mito e storia: le tragedie di Cesare de' Cesari
di Sandra Clerc
pagine: 23
€ 6,00
Abstract ∨
Browsing the list of tragedies printed in Italy in the mid-fifteenth century, the name of Cesare de' Cesari catches the eye of the reader. He is the author of three plays published in the space of two years: Romilda (1551), Cleopatra and Scilla (both 1552). Cesari was active in Girolamo Ruscelli's circle, and his name appears on a few petrarchistic poems located at the end of the Lettura [...] sopra un sonetto del [...] marchese della Terza (1552) and in the Tempio to Giovanna d'Aragona (1555). After these publications, he disappears from the literary scene. Cesari's three tragedies show, if proof is still needed, that this genre was most popular in the Cinquecento. Tragedy appeals also to young writers looking for literary recognition, sponsored, like Cesari, by the refusal of printing art professionals to ever miss an opportunity for proposing new authors and new ventures on the book market. Until Cesari's plays, the stories of both Romilda and Scilla had never been adapted for the theatre. The tale of Romilda later came to know some success. Giraldi had already written a tragedy based on Cleopatra's myth, which was destined for great European fortune. Sandra Clerc, Université de Fribourg, CH
Per il carteggio Beccadelli-Gualteruzzi: manoscritti e stampe, con un'appendice di lettere inedite
di Maria Chiara Tarsi
pagine: 33
€ 6,00
Abstract ∨
The article focuses on the correspondence between Ludovico Beccadelli (1501-1572) and Carlo Gualteruzzi (1500-1577): as far as we know it consists of 278 letters (from 1534 to 1572), which are now preserved in several Italian and foreign libraries. These letters are very interesting because they allow us to shed light on two significant litterati of Italian 16th century; they also help us to know better the cultural and historical background they lived in. The second part of the article lists all the few published letters and the manuscripts which contain unpublished documents. In appendix, the edition of 20 Beccadelli's letters dating 1555-1556, the first two years of his episcopate in Dubrovnik (Dalmatia), which represented a turning point in his biography. Maria Chiara Tarsi, Università Cattolica del Sacro Cuore, Milano / Université de Fribourg, CH
Un carteggio inedito di san Carlo Borromeo (1578- 79): la Sindone e l'esorcismo di una calvinista
di Ada Grossi
pagine: 34
€ 6,00
Abstract ∨
A correspondence of the inquisitor of Vercelli, Cipriano Uberti O.P., with St. Charles Borromeo relates the story of a calvinist woman from Geneva, most likely daughter of Italian refugees, supposed to be possessed by demons: in May 1578 she underwent a peculiar rite of exorcism, performed in Chambe´ry by the dean of the Sainte-Chapelle du Saint-Suaire (who was also bishop of St-Jean-de-Maurienne) and the episcopal vicar of Grenoble. The Holy Shroud itself was used for the rite, which took place only a few months before the move of the relic to Turin. Later, the woman went to Piedmont, converted to Catholicism and was taken under protection by Uberti, who eventually asked St. Charles to hide her in Milan. A critical edition of the correspondence, of which five letters from December 1578 to January 1579 are preserved in Milan (Biblioteca Ambrosiana, F 53 A inf., F 55 inf., F 67 inf., F 99 if., P 17 inf.), is provided in the Appendix.
Profezie e alchimia alla corte di Gregorio XIII e Sisto V: un carteggio dall'Accademia Carrara di Bergamo
di Lorenzo Comensoli Antonini
pagine: 24
€ 6,00
Abstract ∨
The work focuses on a group of letters held in the archives of the Accademia Carrara of Bergamo, written from 1578 to 1587 by some familiares of the cardinal Giovanni Girolamo Albani (1509-1591). The correspondence shows a deep interest in esoteric matters, such as alchemy and prophecies. At first, the essay deals with the issue of an alchemical recipe. Then, it offers an interpretation of the meaning and the uses of an unpublished prophecy that foresees the imminent death of the pope, nurturing among Albani's entourage the desire to see their master elected. At last, a letter of 1587 mentions two «ancient prophecies», hitherto known as having been published at the end of 16th century. Thus, the article backdates these texts, and especially reconsiders the hypothesis about the redaction of the famous St. Malachy's Prophecies of the Popes. In general, these letters represent an inner and vivid cross section of the beliefs that characterised the life of the papal court. Lorenzo Comensoli Antonini, Università degli Studi di Padova / Université Paris-Sorbonne.
Giovan Battista Marino lettore di Nonno di Panopoli: l'episodio della nascita di Amore (Adone VII 141- 48)
di Cristiano Minuto
pagine: 13
€ 6,00
Abstract ∨
This work takes into account the knowledge and use of Nonnus' Dionysiaca by Giovan Battista Marino in his poem Adone. I will try to study Marino's reception of the Greek model by analyzing a specific passage of the Adone, which deals with the birth of Eros, and by comparing it with two episodes in the Dionysiaca: the birth of Eros and the happy reactions of the beasts due to the birth of Beroe. I will show the complexity with which Nonnus is imitated by Marino, who – it is important to specify it – did not read Nonnus' poem in the original, but in a modern Latin translation. As a matter of fact, I will point out how Marino, within few verses, is able either to allude to his model or to reproduce it almost literally and also to transform it, according to his poetical purposes. Cristiano Minuto, Università degli Studi di Napoli Federico II.
La libertad de imprenta en el Trienio liberal (1820-1823). Actitud de la Santa Sede y los obispos espan˜oles
di Maximiliano Barrio Gozalo
pagine: 24
€ 6,00
Abstract ∨
The Liberal Triennium became an appropriate period to consolidate the revolution started in Cadiz, rescuing the lost work after the coup of 1814. The Inquisition was abolished and freedom of the press was restored to sensitize public opinion and win support for ecclesiastical reform was going to attack. With this in mind, in this article I analyze two aspects of freedom of the press: the criticism that the press and pamphlets held against the clergy and religious things, and the reaction of the ecclesiastical authorities, both the Holy See and the Spanish Bishops. Maximiliano Barrio Gozalo, Universidad de Valladolid.
L'attesa di Rebora. Fonti dei Canti anonimi e frammenti inediti a cavallo della Grande Guerra (con un nuovo documento per la lettura di Dall'imagine tesa)
di Roberto Cicala, Valerio Rossi
pagine: 20
€ 6,00
Abstract ∨
The discovery of an unpublished document illuminates the famous and most anthologized poem of Clemente Rebora (1885-1957), Dall'imagine tesa, offering a new interpretation to the mystery of the headline figure, important because it represents the meaning of the poet's «terrible choice» after the dramatic experience of World War I and love with the Russian pianist Lydia Natus. The time of search and expectation, which has its outcome in Catholic conversion and in religious choice with a secret vote, pervades the collection of Canti anonimi, whose sources are investigated thanks to some author's archival fragments. Roberto Cicala - Valerio Rossi, Università Cattolica del Sacro Cuore, Milano.


La scoperta del cartiglio datato 25 ottobre 1930 svela un mistero sulla poesia più celebre e più controversa del poeta Clemente Rebora  (1885-1957),
Dall'imagine tesa
, offrendone una nuova interpretazione che rimanda alla «scelta terribile» del poeta dopo la drammatica esperienza della prima guerra mondiale e l'amore con la pianista russa Lydia Natus. Il tempo della ricerca e dell'attesa, che ha il suo esito nella conversione cattolica e nella scelta religiosa con un voto segreto, pervade la raccolta
Canti anonimi
, le cui fonti sono indagate grazie a frammenti d'archivio d'autore. Roberto Cicala - Valerio Rossi, Università Cattolica del Sacro Cuore, Milano .
Rassegna stampa: 
Corriere della Sera
Recensioni e Annunzi bibliografici