Vita e Pensiero
Sommario generale dell'annata
digital
I canti XXVI e XXVII dell'Inferno dantesco nella versione di Matteo Ronto
digital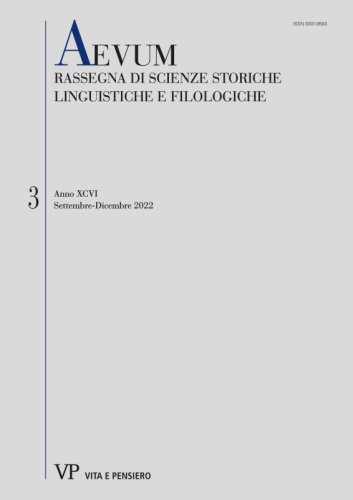 This paper offers the critical edition of Dante's Inferno XXVI and XXVII in the Latin hexametrical translation written by the Olivetan monk Matteo Ronto (1370/1380-1442). In this work, composed between 1427 and 1431, about ten years after the Latin translation in prose with commentary by Giovanni da Serravalle, Ronto elaborated a very complex poetical version, trying to preserve the correspondance between Dante's hendecasyllables and the hexameters...
Aulo Giano Parrasio e la tradizione manoscritta di Pindaro
digital
This paper examines the relationships between Parrhasius and the manuscript tradition of Pindar for the latin translation of pindaric scholia vetera made by the humanist in the manuscript XIII. B. 19 of Biblioteca Nazionale di Napoli...
Roi Achille, roi Chiron: le rôle de l'écurie dans la construction de la figure chevaleresque de François Ier au début des années 1530
digital
Among the institutions of the king's house, the stable is responsible not only for his daily transport but also for his military activities. It manages the acquisition and maintenance of horses, harness and weapons for its tournaments and military campaigns. Keeping with medieval tradition, it also welcomes pages sent to the Court to be raised beside the sovereign...
«O Belzebù domicilio di tranquillità!». Indagine sugli Spiriti folletti di Anton Francesco Doni
digital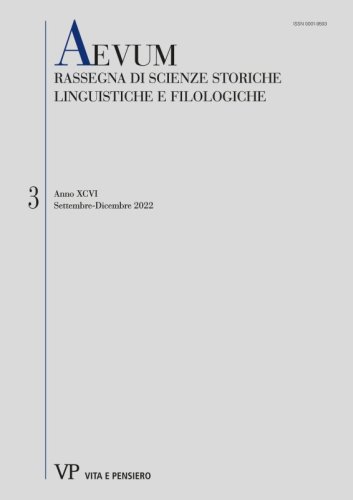 This essay provides an overview of one of Anton Francesco Doni's minor works, Gli Spiriti folletti. Published in Florence in 1546, the Spiriti folletti is basically a dialogue between two demons who talk to each other about their own misdeeds, also invoking the intervention of Satan on earth in order to administer human justice...
Aldrovandi, Pinelli, Sigonio: interpretazioni plautine tra Padova e Bologna in una lettera del 1582
digital
This essay offers the critical edition of a previously unpublished letter by Ulisse Aldrovandi to Carlo Sigonio dated 1582, which discussed two difficult passages of Plautus' comedies (Aulularia and Captivi). This text demonstrates an extremely interesting fold of the exegesis of Plautus carried out at the end of the sixteenth century between Bologna and Padua, given that the first input to understand the places came from Gian Vincenzo Pinelli...
Giovanni Battista Morsolino organista del Duomo di Milano: inedite fonti liturgiche, organistiche e organarie per la cattedrale milanese tra Cinque e Seicento
digital
Giovanni Battista Morsolino (c. 1540-1591) was an Italian organist and composer. He had an active international career serving at the Bavarian Court in Munich, at Santa Maria Maggiore in Bergamo and in Milan cathedral (Duomo). Firstly, this work traces Morsolino's biography focusing on the period spent in Milan (1590-1591)...
La prima ricezione inglese dell'Aminta: uno sguardo d'insieme
digital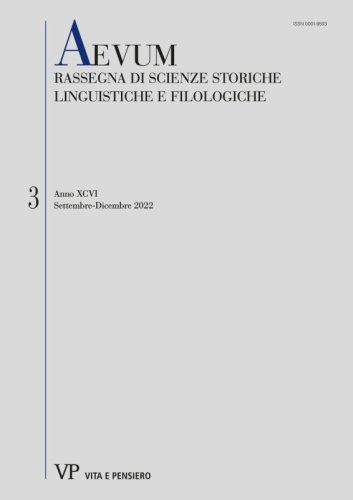 The essay deals with the first English destiny of the Aminta by Torquato Tasso, examining its focal moments and the cultural context in which its reception took place...
Le Guerre di Religione viste dalla Lione confessionale di Pierre Matthieu, una Controriforma europea (anni 1580)
digital
This essay examines the Wars of Religion with a particular focus on the point of view of Pierre Matthieu and his intellectual circle in the context of the Catholic city of Lyon during the 1580s...
Il doppio elogio funebre di Giambattista Marino a Battista Guarini
digital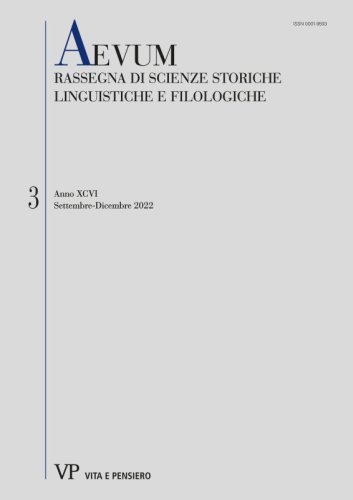 The essay looks into Marino's tribute to his colleague and friend Battista Guarini, who died in 1612. This eulogy, which consists of two specular sonnets and is included in the Lagrime (the funerary chapter of Lira 3, Marino's second poetical collection published in Venice in 1614), is a unique and interesting case study that can help us understand the making of Lira 3 itself...
Piramo e Tisbe in Ero e Leandro: Capponi, Marino e le nuove frontiere idillico-musicali del mito
digital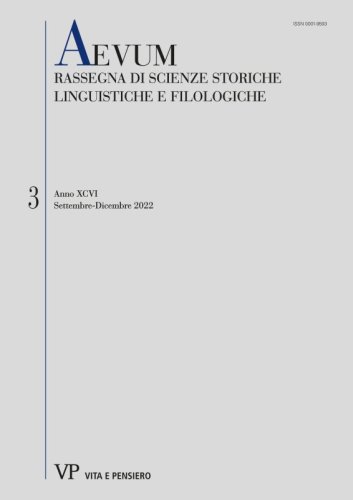 The study focuses on Gli amori infelici di Ero e Leandro (1618) by Giovanni Capponi, a poetic text belonging to the idyll genre, one of the main forms of early Seventeenth- Century bucolic experimentalism. The analysis identifies the process of contamination with artistic re-elaboration of myth (Rubens' painting "Hero and Leander") and with ancient and modern texts, such as Ovid's Methamorphoses, the Giovan Battista Marino's Piramo e Tisbe idyll from La Sampogna, and the Boscan version of Hero and Leander Myth...
Superga. Le trasformazioni d'un simbolo del potere (secoli XVIII-XIX)
digital
The basilica of Superga is one of the main monuments of the Baroque architecture in Italy. At the same time, it was also one of the important symbols of the House of Savoy: the place where, during two centuries, were held ceremonies and rituals that legitimized its power...
Consulta l'archivio
Ultimi 3 numeri
Annate disponibili online
Fascicoli anno
2023