Vita e Pensiero
AEVUM. Abbonamento annuale 2023
novità
digital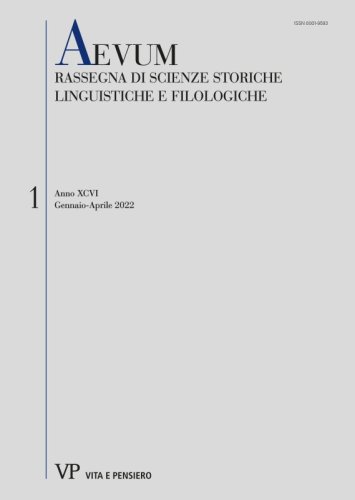 Formato:

Abbonamento cartaceo + digitale
| Editore: Vita e Pensiero
| Anno: 2023
Abbonamento annuale alla rivista AEVUM. Rassegna di scienze storiche, linguistiche e filologiche.
AEVUM - 2022 - 2
novità
digital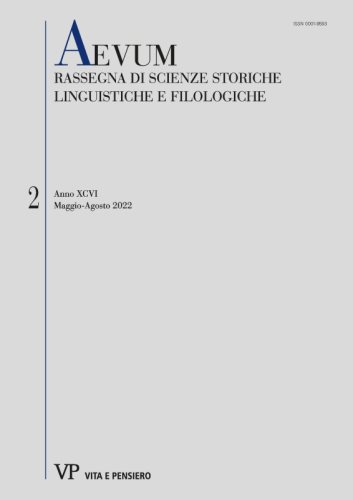 Formato:

Fascicolo digitale

Secondo fascicolo del 2022
The τόπος of the goods of fortune in Consolatio II and III: how to console and exhort Boethius
novità
digital
Formato:

Articolo

| AEVUM - 2022 - 2
The apparent overlap between Lady Philosophy's surveys of the goods of fortune in Book II and III of Boethius' Consolatio philosophiae has troubled commentators for more than a century now, but it is yet to find a satisfactory explanation...
In margine a un glossario del IX secolo: il Libellus de situ civitatis Mediolani
novità
digital
Formato:

Articolo

| AEVUM - 2022 - 2
The ms. Milano, Bibl. Ambrosiana C 243 inf. is an important testimony of the cultural north-Italian milieu: accomplished in the monastery of Bobbio in the IX3/3 century, the manuscript contains an unedited glossary, which reveals, for its unfinished nature, traces of its elaboration process and of many readers' use...
Fra Milano e Cluny: appunti intorno a un libello agiografico-liturgico
novità
digital
Formato:

Articolo

| AEVUM - 2022 - 2
The present contribution studies ms. Paris, BnF, Latin 5566, an 11th century hagiographical source assigned to Cluny, and reconsiders its origin on the basis of previously undetected liturgical elements, which pertain to the Ambrosian tradition...
Una versificazione medievale del De vera et falsa poenitentia pseudo-agostiniano
novità
digital
Formato:

Articolo

| AEVUM - 2022 - 2
MS Ambr. N 162 sup., XII century, probably Bologna, transmits two different still unknown works about penance: an anonymous prosimetron and a long poem. This article analyses the first one, a medieval versification of some passages of Augustinian or pseudo-Augustinian texts on the subject of penance, expecially De vera et falsa poenitentia, that in the later Middle Ages had wide circulation under the name of Augustine. In this prosimetron the patristic and medieval sentences are accompanied by epigrams in elegiac couplets, where the anonymous author summarizes the content of the prose in poetry...
Frammenti manoscritti medioevali nell'Archivio della Collegiata Insigne dei Santi Nazaro e Celso a Brescia
novità
digital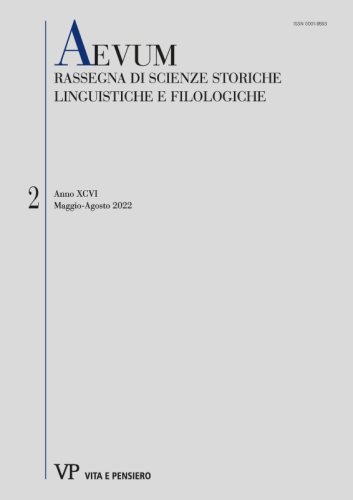 Formato:

Articolo

| AEVUM - 2022 - 2
A little treasure of fragments from medieval parchment codices is found in the Archive of the Collegiata Insigne dei Santi Nazaro e Celso in Brescia. One of them is taken from an Italian Antiphonary (12th-13th century); another one is of French origin and transmits Ovid's Metamorphoses (13th century); the last one comes from an Italian Articella manuscript and transmits Galen's Liber Tegni cum commento Haly (14th century)...
Frati minori e documentazione pontificia: le lettere papali conservate a Padova (da Gregorio IX ad Alessandro IV)
novità
digital
Formato:

Articolo

| AEVUM - 2022 - 2
The paper publishes a list of all the original papal letters concerning the Friars Minor preserved in Padua, covering the period up to the pontificate of Alexander IV. In addition, the contribution provides the complete edition of some letters, in particular those addressed to the Friars Minor of Padua and of the province of the Marca Trevigiana (later called of St. Anthony), only partly known to scholars or in need of a new transcription...
«Stralactato di latino in volghare». Lingua "bifronte" e volgarizzazione nel Medio Evo pistoiese
novità
digital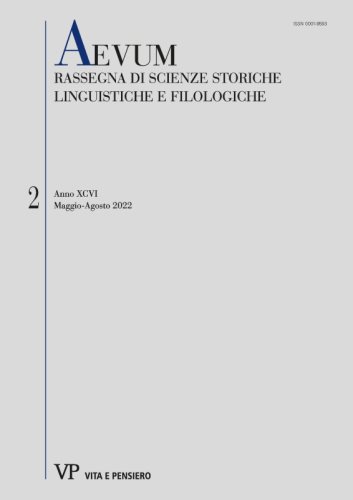 Formato:

Articolo

| AEVUM - 2022 - 2
The paper retraces the works in progress about the main medieval texts of Pistoia. These researches primarily consist of the critical editions of the volgarizzamenti of Albertano da Brescia translated by ser Soffredi del Grazia (1278) and of Guido delle Colonne's Historia destructionis Troiae, written in 1333 by Mazzeo di ser Giovanni Bellebuoni...
Recensioni
novità
digital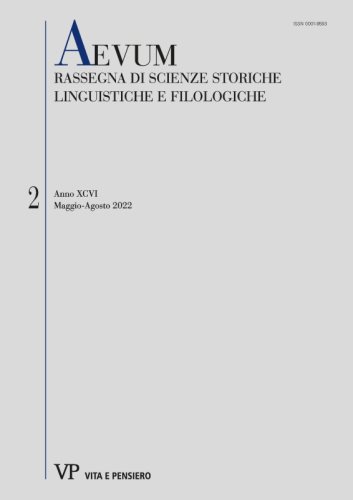 Formato:

Articolo

| AEVUM - 2022 - 2
Bibliotheca Gregorii Magni manuscripta: censimento dei manoscritti di Gregorio Magno e della sua fortuna (epitomi, florilegi, pseudoepigrafi, agiografie, liturgia). 4: Milano-Paris, a cura di Francesca Sara D'Imperio (A. Scalia), p. 441 – Marina Giani, Il «Liber glossarum» e la tradizione altomedievale di Agostino, introduzione di Francesco Santi (M. Dri), p. 441 – Prophecy and Prophets in the Middle Ages, a cura di Alessandro Palazzo – Anna Rodolfi (C.A. Bonifacio), p. 444 – Jean-Pierre Rothschild – Caroline Heid (dir.), La bibliothèque de l'abbaye de Clairvaux du XIIe au XVIIIe siècle. Tome II, Manuscrits conservés. Troisième Partie, Sermons et instruments pour la prédication, Manuscrits des cotes O, P, Q (A. Scalia), p. 447 – Manoscritti italogreci: nuove tessere di un mosaico frammentario, a cura di Santo Lucà con la collaborazione di Donatella Bucca – Francesco D'Aiuto (S. Serventi), p. 448 – Paolo Rosso, Le università nell'Italia medievale. Cultura, società e politica (secoli XII-XV) (M. Rainini), p. 450 – Francesco Petrarca e la sua ricezione europea, Atti del Convegno, Freie Universität Berlin, 9-10 novembre 2017, a cura di Giovanni Cascio – Bernhard Huss (S. Brusa), p. 452 – Maurizio Fiorilla – Irene Iocca (a cura di), Boccaccio (C. Ceccarelli), p. 454 – Benvenuto da Imola, Lectura Dantis Ferrariensis, ed. critica a cura di Carlo Paolazzi – Paolo Pasquino – Fabio Sartorio (G.C. Alessio), p. 456
AEVUM - 2022 - 1
digital
Formato:

Fascicolo digitale

Primo fascicolo del 2022
Omero e le scienze: andata e ritorno
digital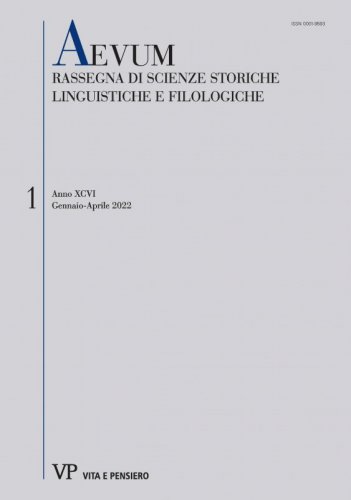 Formato:

Articolo

| AEVUM - 2022 - 1
The relationship between 'science(/philosophy)' and the authority of the great archaic poets, Homer above all, is clearly testified by the sources for all the phases of Greek civilization. This relationship develops along two main distinct and autonomous (but somehow complementary) lines, which we will refer here metaphorically as 'way there' (science [discusses or] 'uses' Homer) and 'way back' (Homeric scholarship 'uses' science), without any indication of chronological priority and with pure reference to the two opposite perspectives they represent...
Consulta l'archivio
Ultimi 3 numeri
Annate disponibili online
Fascicoli anno
2022