Vita e Pensiero
AEVUM - 2020 - 2
digital
formato:

Fascicolo digitale

Secondo fascicolo del 2020
A Miscellaneous Book at the Workshop of Nicholas Choniates
digital
formato:

Articolo

| AEVUM - 2020 - 2
This article offers the first study of a miscellaneous book of theological contents (= Misc.), which mainly consists of Ps.-Athanasius' Quaestiones ad Antiochum and a large patristic florilegium...
De compositione et nomine lexici Sudae
digital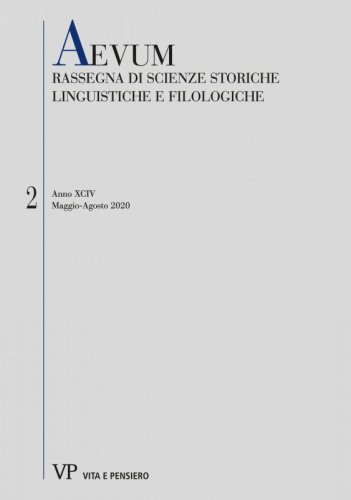 formato:

Articolo

| AEVUM - 2020 - 2
Suda's core are Hesychius' Ὀνοματολόγος, the revised Συναγωγή and the Lexicon Ambrosianum, rearranged in alphabetic order adapted to contemporary pronunciation. Material was added to this mass from more than forty sources, whose selection lacks of definite guidelines besides a minor interest in religious matters. It was quite probably a collective work of a school circle...
Una nuova traccia di conoscenza del testo di Properzio nel XII secolo (con un riesame del Fortleben nel XII e XIII secolo)
digital
formato:

Articolo

| AEVUM - 2020 - 2
The Elegies of Propertius were almost unknown before the 12th century and remained very little spread until the Humanistic age. After a brief survey (including some updates and corrections) of what is already known about this exiguous Fortleben, the article discusses a piece of evidence which had gone unnoticed before and which seems to reveal a knowledge of this poet's work in Cologne during the first half of the 12th century.
On the Margins of Bible Translation: English Decalogues and their Circulation in the Thirteenth-Fourteenth Centuries
digital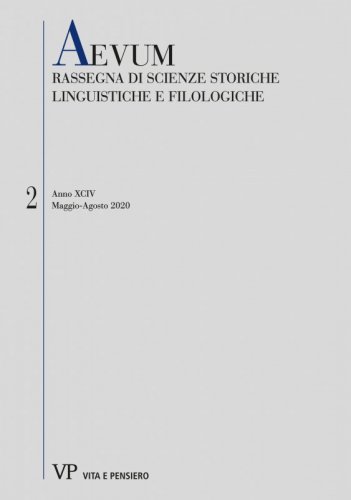 formato:

Articolo

| AEVUM - 2020 - 2
Although large-scale Bible translations into English were not carried out between c. 1000 and the 1380s, Bible translation was still taking place on a daily basis both during public religious observances and during private devotional instruction. This article analyses a corpus of Middle English decalogue texts of the thirteenth and fourteenth centuries and their relation to the source text of Exodus and Deuteronomy...
Per la biografia di fr. Iacopo Passavanti OP (1302 ca.-1357)
digital
formato:

Articolo

| AEVUM - 2020 - 2
Iacopo Passavanti is currently known for his sermons and as the author of one of the oldest theological treatises, which was redacted both in Latin and Vernacular. However, he was also a leading member of the Order of Preachers and a spokesman of an innovative religious and cultural project which, it seems, he held in common with the entirety of the Order of St. Dominic...
Tendances messianiques et rhétorique apocalyptique du tribunat de Cola di Rienzo (1347)
digital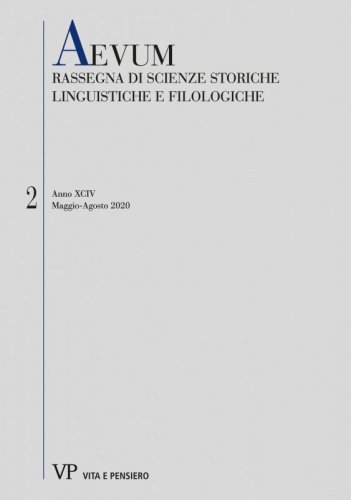 formato:

Articolo

| AEVUM - 2020 - 2
Since the work of Konrad Burdach, the messianic overtones as well as the apocalyptic rhetoric of the short-lived Tribunate of Cola di Rienzo have repeatedly been linked to ideas harking back to Joachim of Fiore and maintained alive in mid-fourteenth century Italy by spiritual Franciscan groups...
Appunti per la ricostruzione di una biblioteca lateranense: i manoscritti miniati di Santa Maria delle Grazie a Novara
digital
formato:

Articolo

| AEVUM - 2020 - 2
The Lateran rectory of Santa Maria delle Grazie was founded in Novara during the second half of the fifteenth century. This important foundation had a rich library that was dispersed in the 1780s. Only few manuscripts belonging to this collection remain today, and it's mainly documents produced outside Novara at some time between the 14th and 17th centuries...
A Survey of the Manuscripts of Augustine's De Civitate Dei: New Acquisitions
digital
formato:

Articolo

| AEVUM - 2020 - 2
This article aims to update the checklists of MSS. of Augustine's De civitate Dei published in the 20th century, in order to gather and assess data for a future critical edition of this work. The research has been conducted through a wide bibliographical recognition, which has taken into account the physical resources available at the KU Leuven Special Collections as well as a wide selection of online digital tools...
Recensioni
digital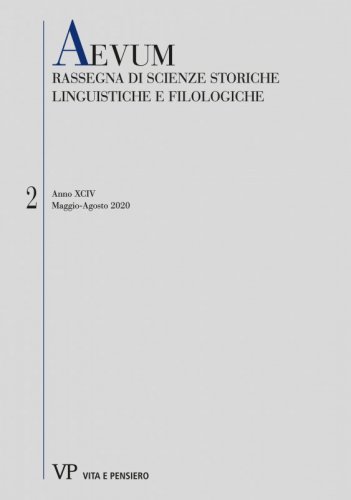 formato:

Articolo

| AEVUM - 2020 - 2
T. Braccini, Bisanzio prima di Bisanzio. Miti e fondazione della Nuova Roma (C.M. Mazzucchi), p. 473 – Isaac of Stella, Sermons on the Christian Year, vol. 2 (Sermons 27-55 and Fragments 1-3), Translated by L. White, Introduction by E. Dietz (D. Pezzini), p. 474 – M. Simó – A. Mirizio – V. Trueba (eds.), Los trovadores. Recepción, creación y crítica en la edad media y la edad contemporánea (M. Marfany), p. 475 – T. Forcellini, Fonti teologiche francescane della Commedia di Dante (A. Montefusco), p. 476 – R. Parmeggiani, L'Inquisizione a Firenze nell'età di Dante. Politica, società, economia e cultura (A. Montefusco), p. 478 – A Companion to Birgitta of Sweden and Her Legacy in the Later Middle Ages, ed. by M.H. Oen (M. Lodone), p. 481 – John of Rupescissa, Vade mecum in tribulatione. Translated into Medieval Vernaculars, ed. by R.E. Lerner – P. Ry01_chterová (M. Lodone), p. 484 – C. Schabel, Pierre Ceffons et le déterminisme radical au temps de la peste noire (P. Bermon), p. 486 – J.O. Ward, Classical Rhetoric in the Middle Ages. The Medieval Rhetors and Their Art 400-1300, with a Manuscripts Survey to 1500 CE (G.C. Alessio), p. 489 – San Vicente Ferrer, Sermonario de Aviñón (Avignon. Bibliothèque Municipale ms 610), Introducción, edición crítica y notas a cargo de F.M. Gimeno Blay y M.aL. Mandingorra Llavata, Traducción castellana a cargo de D. Gonzalbo Gimeno (C.A. Bonifacio), p. 492 – Laurentii Valle Sermo de mysterio eucharistie, a cura di C. Marsico, con un saggio di M. Bracali (G. Raffo), p. 494 – I manoscritti datati delle Marche, a cura di P. Errani, con la collaborazione di M. Palma e P. Zanfini (F.M. Gimeno Blay), p. 495 – Petrarca nördlich der Alpen. Studien zum Gedenken an Agostino Sottili (1939-2004), Hg. F. Della Schiava (L. Ciccone), p. 498 – «Hoc nomen vite eterne». Sigilli conservati nell'Archivio della Certosa di Farneta, a cura di G. Concioni (G. Andenna), p. 501
AEVUM. Abbonamento annuale 2021
digital
formato:

Abbonamento cartaceo + digitale
| editore: Vita e Pensiero
| anno: 2021
Abbonamento annuale alla rivista AEVUM. Rassegna di scienze storiche, linguistiche e filologiche.
AEVUM - 2020 - 1
digital
formato:

Fascicolo digitale

Primo fascicolo del 2020
Consulta l'archivio
Ultimi 3 numeri
Annate disponibili online
Fascicoli anno
2020