Carla Vetere
Libri dell'autore
Peticionem iustam et consonam rationi maxime: una contesa tra il futuro Papa Urbano VI e il monastero napoletano di San Gregorio Armeno
digital
formato:

Articolo

| AEVUM - 2012 - 2
SUMMARY: A notarial deed, preserved in two later copies (both in the State Archives of Naples), and a papal letter, preserved in the original (in the same archival collection), report a dispute between the Neapolitan monasteries of S. Gregorio Armeno and S. Patrizia with the vicar of the archbishop of Naples, Bartolomeo Prignano, himself a Neapolitan of a merchant family and future pope Urban VI. Prignano imposed a tax on both monasteries, but the abbesses refused to pay it as an injust burden. The notarial deed (1360 October 23) is the submission to the vicar of a copy of the appeal presented by the abbesses to the papal Curia in Avignon. The papal letter (1361 March 1) tells the bishops of Nola, Pozzuoli and Caiazzo to examine and settle the controversy, with regard only to S. Gregorio Armeno.
Le più antiche pergamene degli Ebdomadari conservate nell'Archivio Storico Diocesano di Napoli
digital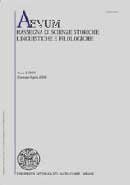 formato:

Articolo

| AEVUM - 2010 - 2
In the Archivio Storico Diocesano of Naples there is a series of 365 parchment documents from the Collegio degli Ebdomadari, called also Confratres Sancti Salvatoris, a congregation active in the Cathedral of Naples. The documents span from 1332 to 1681. The oldest among them, nineteen in number, dating 1332-1353, are here studied and edited or summarized. They include different sorts of deeds: nine chartae venditionis, two chartae promissionis, one charta renunciationis, an obligation, two wills, two pro anima deeds of gift, one charta divisionis and one inductio in corporalem possessionem. The Ebdomadari appear to be active in the acquisition of real estates in a specific zone of Naples (Forcella); in this activity they developed connections with Neapolitan families whose interests were tied to those of important persons of the episcopacy of Naples.
Consulta l'archivio
Ultimi 3 numeri
Annate disponibili online
Fascicoli anno
2020