Domenico Pezzini
Titoli dell'autore
Le "Ore della croce" nelle liriche inglesi tardomedievali
digital
Under the heading "Hours of the Cross" the Index of Middle English Verse gathers a group of lyrics related to a devotion, particularly successful in the late Middle Ages, which connects one or more episodes of the passion narrative with the seven canonical hours of the Church office. The devotion was formalized in a Latin hymn, Patris sapientia, veritas divina, composed in the first quarter of the 14th century, in which the events occurring in the last day of Jesus' life were encapsulated in seven quatrains, followed by a final stanza in the form of a prayer. The hymn became immensely popular, especially for being included in a widely circulated Book of Hours known in England as Prymer. The article analyses all the Middle English poems devoted to the Hours of the Cross, the majority of them being some form of "translation" of the Latin hymn. The extraordinary variety of responses to the original text, besides providing further evidence of what medieval translation was meant to be, illustrates an important aspect of medieval poetry, especially in the religious field: that more often than not the literary "creation" is in fact an "art of variation" within a well established tradition.
The prophetic voice in St Birgitta's Revelations: an analysis of Incominciano certi capitoli, a late fifteenth century Italian compilation (MS Florence, Bibl. Naz. Centrale II, II, 391)
digital
It seems that in Italy St Birgitta of Sweden was received mainly as a prophetess, both as one who could forecast coming events (prophecies of political content were falsely attributed to her) and, more properly, as a preacher speaking in the name of God to call people to conversion. This second aspect of prophecy is the guiding principle of an Italian compilation, a sort of 'thematic book' consisting of selected chapters (113 in all) from the Revelations. This work exists in a manuscript from the end of the fifteenth century (Florence, Bibl. naz. centrale, II, II, 391), and in a book printed in Mondovì in 1518, of which only three copies appear to be extant in public libraries (Turin, Stockholm and Uppsala). A comparison shows that the two versions go back to the same source, although they have many differences both in wording and in layout. The content of the work is first summarily described, and the main themes of Birgitta's preaching on conversion pointed out as they were perceived by the compiler. Then the section drawn from the Third Book of the Revelations (fifteen chapters out of thirty-three), containing particularly harsh criticism of clerical behaviour, is examined in order to find out criteria followed in the selection.
Recensioni - Articolo 12
digital
Recensioni - Articolo 10
digital
Recensioni - Articolo 11
digital
Recensioni - Articolo 1
digital
Recensioni - Articolo 2
digital
Recensioni - Articolo 7
digital
Recensioni - Articolo 5
digital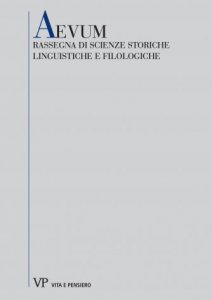 Recensioni - Articolo 3
digital
Consulta l'archivio
Ultimi 3 numeri
Annate disponibili online
Fascicoli anno
2023