Gionata Brusa
Libri dell'autore
Legature antiche con frammenti liturgici in incunaboli della Newberry Lbrary di Chicago: il caso Italia
digital
formato:

Articolo

| AEVUM - 2013 - 2
A full inspection of the incunabula preserved at the Newberry Library, Chicago, made it possible to select volumes with ancient bindings. Their contents were taken into consideration together with all the information useful to reconstruct their history such as ownerships, ex libris and other annotations. Special attention was paid to the pastedowns and flyfleaves, as a topical and constant marker, strictly connected to the original binding. All the bindings with pastedowns and flyleaves taken from liturgical MSS written in Italy were selected, and they turned out to be bound in 15th- or early 16th-century Italian bindings. These bindings and liturgical fragments, eight in number, are here described. There are three Antiphonars, two Legendaries, a Bible, a Missal and a Homiliary from different regions of Italy and from the 12th and 13th century.
Un frammento di Libellus praefationum ambrosiano
digital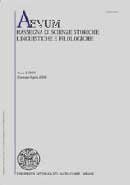 formato:

Articolo

| AEVUM - 2010 - 2
A bifolium from an 11th-century liturgical book of Ambrosian rite is used as fly-leaf in MS Vercelli, Biblioteca Capitolare, CXV (a 10th-century Lectionary). Unlike Sacramentaries, where Praefationes and Orationes are arranged together, the fragment offers a set of Prefaces from the first week after Easter to the first sunday after Pentecost, followed by fragments of saint's feasts. It appears to have originally belonged to a Libellus praefationum, a sort of book the existence of which has been supposed by Judith Frei. A critical edition of the fragment is provided.
Maculature liturgiche nel Fondo Notarile Antico dell'Archivio Storico Civico di Vercelli
digital
formato:

Articolo

| AEVUM - 2009 - 2
Since the 16th Century the historical archive of the Comune of Vercelli has kept the notarial documents of the city. Registers, notularii, and other types of notarial books are often bound with recycled parchment, taken from discarded medieval manuscripts. All the liturgical texts reused in these bindings are here listed and described: there are fragments from 84 different codices, spanning from the 11th to the 15th Century and including several kinds of liturgical books, such as lectionaries, Missals, Antiphonaries, Breviaries, Homiliaries, Bibles, etc.
Consulta l'archivio
Ultimi 3 numeri
Annate disponibili online
Fascicoli anno
2019