Isaias Arrayas Morales
Libri dell'autore
Reflexiones sobre la integración y el arraigo de romano-itálicos en Anatolia en el siglo I a.C.
digital
formato:

Articolo

| AEVUM - 2019 - 1
This article proposes an approach to the processes of settlement, social integration and rootedness of the Rhomaioi who were established in the Anatolian communities, especially in Asia, in the 1st century BC. The evidence provided by some of the most important poleis of western Anatolia will be taken into consideration, especially by Ephesus and Cyzicus, which have documented the largest number of non-imperial nomina of the Anatolian west...
Las guerras mitridaticas en la geopolıtica mediterranea. Sobre los contactos entre Mitrıdates Eupator y los italicos
digital
formato:

Articolo

| AEVUM - 2016 - 1
This article aims to evaluate the support to Mithridates VI Eupator, king of Pontus, in his war against Rome, stressing on his alliance with the Italian socii. After breaking into the province of Asia, the Pontic king boosted his diplomacy and received embassies from all over the Greek world. However, the sources indicate that many parts of Italy were among his allies (App. Mithr. 16)...
Pirateria y senores de la guerra en la Anatolia meridional en el marco del conflicto mitridatico
digital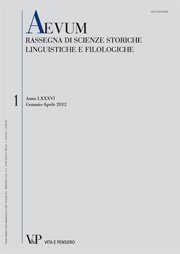 formato:

Articolo

| AEVUM - 2013 - 1
The reasons of Rome to begin his warfare against the piracy in Southern Anatolia are object of this paper; the focus is on the circumstances and consequences of P. Servilius Vatia's campaign. The proconsul confronted diverse enemies. The case of Zenicetes, ruler of Lycia, is emphsized because he was one of the local leaders (tyrannoi) who prospered in alliance with the pirates; he was quickly defeated by Servilius Vatia. The tyrants of Olba were more successful and were officially recognized by Rome, as well as Antipater of Derbe and Tarcondimotus of Hierapolis/Kastabala, in spite of their link with piratical actions.
Consulta l'archivio
Ultimi 3 numeri
Annate disponibili online
Fascicoli anno
2020