Lamberto Di Gregorio
Titoli dell'autore
L'Idillio XII di Teocrito
digital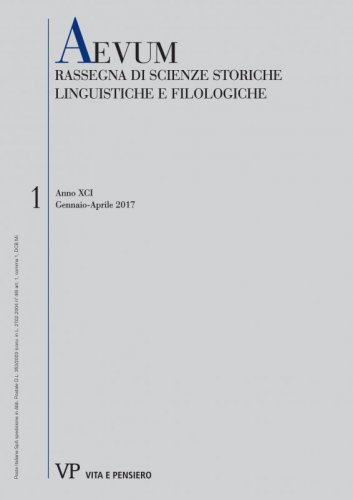 The Idyll XII is the soliloquy of an old man who loves – not loved as he would like – a young man. The old man begins showing the delight of a moment procured by the partner, just come back after an absence of a few days; but, starting from the l. 10, it is clear that the main theme of the idyll is the lack of reciprocity between the beloved, fickle, and the lover, deeply in love with his young partner...
L'Arato perduto: le opere kata lepton e le Epistole
digital
With this article the author concludes his researches on Aratus' minor literary production, that is almost entirely lost (we can try to shed light only through the old testimonies relating it): he examines the minor works, such as hymns, epicedia, epigrams, and the letters traditionally attributed to the author of the Phaenomena...
L'Arato perduto: le opere di astronomia e di medicina
digital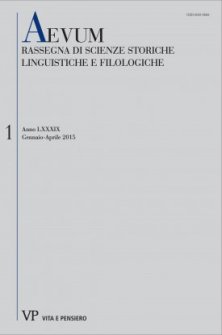 Beside the scholarly work on Homer and different versions of the Phaenomena's proem, ancient sources speak of astronomical and medical treatises composed by Aratus...
L'Arato perduto
digital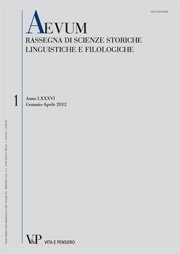 Only scanty fragments of Aratus' minor works are extant; on the contrary, relevant information can be found in numerous ancient testimonia...
Mero` (?) e Niceneto: due sconosciuti?
digital
SUMMARY: Few fragments survive from the works of two minor Hellenistic poets, Nicaenetus and the poetess Moiro` (or Myro` ), and modern scholars left both of them in obscurity. This paper, based on a deep investigation, now sheds light on their lives and provides a commentary on their poems. Nicaenetus and Moiro` (or Myro` ), who lived in the 3rd century B.C., composed epic poems and epigrams, of which 20 hexameters and 7 epigrams are extant. All the testimonia antiquorum are discussed. Quotations from Nicaenetus are found in later authors (Meleager, Parthenius of Nicaea, the historian Menodotus) and he was known until the late Imperial age, to the mythographer Conon, the metrist Hephaestion, Nonnus of Panopolis and Stephanus of Byzantium. Moiro` (or Myro` ) could have been the initiator of a literary genre, the curse poetry, a genre practiced by Callimachus (Ibis), Euphorion (Chiliades, Imprecations or the cup-stealer, Thrax) and in Latin by Ovid (Ibis).
L'Hermes di Eratostene
digital
Eratosthenes' short poem Hermes is to be regarded as a hymn, in which Hermes' deeds were narrated in the form of an epyllion: episodes from the god's childhood are the core, but, as it is suggested by POxy 3000, there are others possibly related to his later life and even to his descendants. The survival of the poem is studied, its content analysed and a full discussion is provided on all the excerpts preserved in scholia and learned works and on grossly multilated papyrus fragments (POxy 3000 and probably POxy 2521).
Sui frammenti di Simia di Rodi, poeta alessandrino
digital
Simias of Rhodes (early third century BC) wrote epigrams and carmina figurata, which survived in full besides a series of fragments from epyllia, hymns and elegiac poems. In § 1 especially, but not exclusively, these fragments are examined in order to explain some peculiarities of Simias' work, which are typical of the Hellenistic poetry, such as the use of rare and difficult words, mixing of literary genres and dialectal forms, recourse to allegory for his own poems, attitude towards the previous authors (Homer, archaic epic, Hesiod, Pindar, Sophocles, Euripides), which is caused by desire for imitation and by will to be different. In § 2 a commentary to Simias' fragmentary poems is given (the critical text by Fränkel and Powell is used, but several passages of it are discussed). The surviving lines are enough to let us know something of Apollo' and Gorgo' content and plausibly suggest that the first poem (§ 2. 1) was a hymn contaminated particularly with epyllion (PMich III 159 is to be assigned to it), the second (§ 2. 2) an epyllion with some love elegy features (fr. 3a, 6-11 FRÄNKEL= fr. 6 POWELL is highly likely to be an excerpt from it). Very short fragments are remnants from hymns (§ 2. 3), from the elegy Months (§ 2. 4) and other unknown works (§ 2. 5).
Recensioni - Articolo 1
digital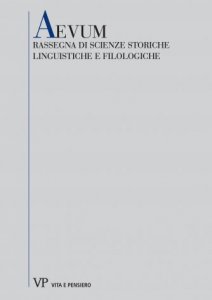 L'"Archelao" di Euripide: tentativo di ricostruzione
digital
Recensioni - Articolo 2
digital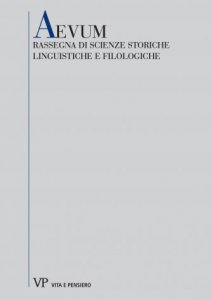 Recensioni - Articolo 7
digital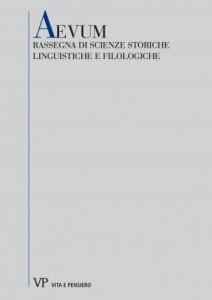 Recensioni - Articolo 8
digital
Consulta l'archivio
Ultimi 3 numeri
Annate disponibili online
Fascicoli anno
2023