Marco Petoletti
Titoli dell'autore
L'epitaffio di santa Marcellina
digital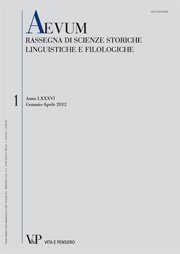 formato:

Articolo

| AEVUM - 2013 - 1
A Latin verse inscription (inc. «Marcellina tuos cum vita resolveret artus») was written for the tomb of Marcellina, sister of the bishop of Milan St. Ambrose. The original stone, placed on the burial in the Milanese basilica martyrum at the time of bishop Simplicianus (397-401), has been lost. The epigram, however, is transmitted by two medieval manuscripts (9th and 11th century), and by the Collectanea of Andrea Alciato (1492-1550), who modified several details of the text for the sake of improving it, in keeping with his humanist taste. The manuscript tradition of the poem is investigated and a critical edition with translation and commentary is provided.
Il messale di Gian Galeazzo Visconti per S. Ambrogio (Milano, Archivio Capitolare della Basilica di S.Ambrogio
digital
formato:

Articolo

| AEVUM - 2009 - 3
The Missal given by Gian Galeazzo Visconti to the church of St Ambrose, where it is still kept (Milano, Archivio Capitolare della Basilica di S. Ambrogio, ms. M 6), was signed by the copyist Fazio Castoldi on 24 May 1400 and illuminated by Anovelo da Imbonate and other artists. It is a winter missal with a special mass for Gian Galeazzo. A short text with a genealogy of the Visconti family was soon premised. Probably in 1431, on the occasion of the coronation of the emperor Sigismund of Luxemburg in Milan, an ordo coronationis was added, then a copy of Sigismund's charter for St Ambrose canons, then a section of summer missal. The text of the genealogy is edited here for the first time, its historical sources are traced and its significance highlighted as part of Gian Galeazzo political project of grandeur.
Il codice Visconti di Modrone 1
digital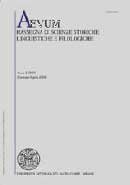 formato:

Articolo

| AEVUM - 2008 - 3
Three humanistic manuscripts from the family library of Duke Visconti di Modrone have been deposited at the Università Cattolica del S. Cuore, where they now are with the family's archives. The main series of the Archives concern the family's business and factories (19th and 20th Centuries); other series are older and include a collection of late medieval documents. The codices now given in deposit were studied by important Italian scholars in the 19th and early 20th Century. They are: MS Visconti di Modrone 1, a Petrarch manuscript, dated 1399, followed by a humanistic miscellany; MS Visconti di Modrone 2, a collection of Chancery letters from the Visconti milieu (Milan, early 15th Century); MS Visconti di Modrone 3, a nice 15th-Century copy of Gasparino Barzizza's Epistole ad exercitationem accommodate in its original blind-stamped leather binding.
Un frammento del sec. IX della Collectio Quesnelliana nell'Archivio Capitolare della Basilica di S. Ambrogio a Milano
digital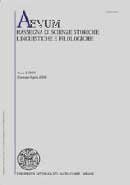 formato:

Articolo

| AEVUM - 2008 - 2
The rich collection of documents preserved in Milan, Archivio Capitolare della Basilica di S. Ambrogio, includes a number of loose leaves from codices. Three of these fragments are here described. The oldest one, Perg. sec. XI n° 126c, is a four-leave item, written in caroline minuscule with raethian influences probably in Northern Italy, in the 9th Century, circa med. or third quarter. The text is a fragment of the rare Collectio Quesnelliana, a canonical collection composed in Rome, 4th-5th century, and attested in 8th-9th-century manuscripts from France and Germany. An updated list of the MSS containing the Collectio Quesnelliana is given.
La scoperta del Marziale autografo di Giovanni Boccaccio
digital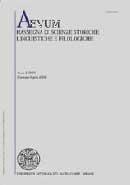 formato:

Articolo

| AEVUM - 2006 - 1
Il ritmo sull'incendio di San Giovanni in Laterano nel 1308
digital
formato:

Articolo

| AEVUM - 2003 - 2
Nel 1308 un incendio, che devastò la basilica di S. Giovanni in Laterano, fu descritto in quartine ritmiche da un anonimo poeta, presente a Roma. Oggetto del Rithmus, qui edito, è soprattutto la celebrazione delle reliquie, custodite nella chiesa, che scamparono alle fiamme.
Appunti sulla fortuna delle epigrafi classiche nel Medioevo
digital
formato:

Articolo

| AEVUM - 2002 - 2
Annunzi bibliografici - Articolo 1
digital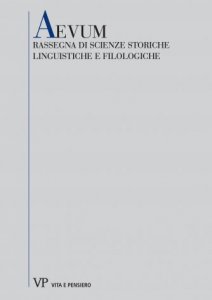 formato:

Articolo

| AEVUM - 2002 - 2
Annunzi bibliografici - Articolo 2
digital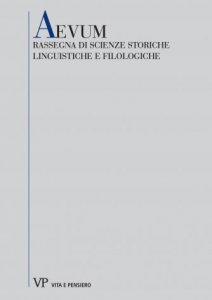 formato:

Articolo

| AEVUM - 2002 - 2
Annunzi bibliografici - Articolo 5
digital
formato:

Articolo

| AEVUM - 2002 - 2
Annunzi bibliografici - Articolo 6
digital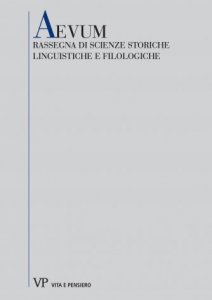 formato:

Articolo

| AEVUM - 2002 - 2
Annunzi bibliografici - Articolo 7
digital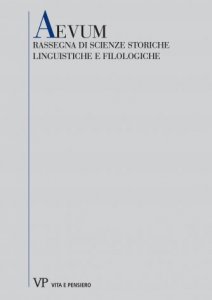 formato:

Articolo

| AEVUM - 2002 - 2
Consulta l'archivio
Ultimi 3 numeri
Annate disponibili online
Fascicoli anno
2022