Mariachiara Fincati
Libri dell'autore
Annotazioni polemiche di Nicola-Nettario abate di Casole nel codice Parisinus Graecus 3
digital
formato:

Articolo

| AEVUM - 2017 - 2
Some polemical annotations in MS Par. gr. 3 by Nicolaos Nectarios Abbot of Casole are here edited and commented. They address the Jews, the Latin Church, and the exegesis of ancient ecclesiastical authors...
Filologia ed esegesi biblica in Terra d'Otranto: varianti greche, latine e giudaiche nel ms. Parisinus Graecus 3
digital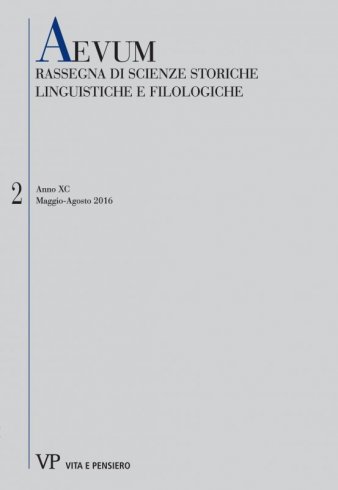 formato:

Articolo

| AEVUM - 2016 - 2
In this article, the Codex Paris, Bibliothèque National, grec 3, produced in 1095, is examined as a South-Italian witness of peculiar readings and glosses to the biblical text, referring both to the Latin Vulgate and to the Judeo-Greek tradition of biblical translations...
Per la storia dell'Esateuco Ambrosiano A147 inf.
digital
formato:

Articolo

| AEVUM - 2009 - 2
Ambr. MS A 147 inf., known as F in the Septuagint editions, was written in the early 5th Century. It was considerably restored at the end of the 11th Century, when all the writing was retraced, some sheets were replaced, and a great number of corrections and notes were added. A palaeographical and codicological description of the MS is here given, focusing on its medieval restorations. A selection of the notes and variant readings added in the margins are edited and commented. Many annotations quote from the Fathers of the Church and from the Hexapla, or add explanations taken from lexicographers; they are product of a Christian school. The variants show a knowledge of Aquila's text and of other Greek translations very close to the Hebrew text and belonging to the group of the 'Jewish revisions'. So, F marginal notes attest to the usage in a Christian milieu of a Greek text of the Bible produced and used by Jewish communities. F arrived to the Ambrosiana Library from Macedonia in the 17th Century. I. Il codice oggi. II. Epoca alto-medievale. III. Epoca medievale: 1. Restauro dell'inchiostro; 2. Revisione del restauro e ulteriori integrazioni; 3. "Mise en page" e scrittura dei fogli di integrazione; 4. Il testo dei ff. 52-55; 5. Annotazioni marginali: a) Varianti testuali, b) Note esegetiche, c) Note lessicali, d) Altre annotazioni; 6. Considerazioni sul restauro medievale. IV. Epoca basso-medievale.
Consulta l'archivio
Ultimi 3 numeri
Annate disponibili online
Fascicoli anno
2020