Silvia Apollonio
Libri dell'autore
Prime ricerche sui Fasti Sacri di Sforza Pallavicino
digital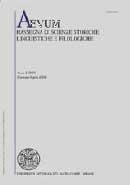 formato:

Articolo

| AEVUM - 2010 - 3
I Fasti Sacri by Sforza Pallavicino (1607-1667) is an unfinished poem about the feasts of the saints listed in the Calendar of the Roman church. In this work Pallavicino, like other authors of the same period, tried to match epic genre with religious matter, following Tasso's example, and taking into consideration the debate about religious poetry in Barberini's circle along with the teachings of Jesuit scholars. The poem has a complex textual history, since it has been preserved in two different versions. The first is a manuscript and the second an incomplete set of proofs. Part of the text has been printed in an anthology, Scelta di poesie italiane, Venice 1686, in a pre-arcadic environment. This little known poem almost completely disappeared after author's entered the Jesuit order in 1637. The article provides information on the work within the context of seventeenth-century sacred poetics.
Malatesta Porta, un letterato riminese tra Tasso, Galileo e Marino
digital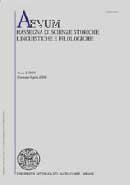 formato:

Articolo

| AEVUM - 2007 - 3
Malatesta Porta (Rimini 1561-1629) hold a role of importance in the dispute on the epic poetry, risen among supporters of Ariosto and Tasso, with a dialogue, Il Rossi, and some annotations on the Gerusalemme Liberata. In touch with many scholars of his time, he made his contribution to the debate on the status of the tragic character with his tragedy I Santi Innocenti, published in 1604 and again in 1605, and to be connected with Marino's Strage de gl'Innocenti. A religious poem, Il Rimino Protetto, and two letters to Galileo on astronomical matters are also included in his literary production.
Consulta l'archivio
Ultimi 3 numeri
Annate disponibili online
Fascicoli anno
2020