Simone Manfredini
Titoli dell'autore
Un Prisciano del sec. X con legatura antica nell'Archivio di S. Antonino in Piacenza
digital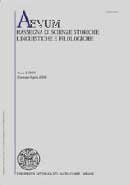 SUMMARY: A fragmentary codex of Priscian's Institutiones is extant in Piacenza, Archivio Capitolare di S. Antonino, Cass. 49, fr. 47. The Institutiones were copied by eight different scribes working side by side in a scriptorium north of the Alps in the 10th century. The MS margins contain a rich collection of glosses in part written by the same copyists of the text, in part by later hands. The codex apparently reached North Italy, where it was bound with dismembered leaves of a Missal, by the end of the 12th century or thereabouts. The Missal leaves, written in the Po valley, 11th century, show a text descending from the Sacramentarium Gregorianum and extended with formulas taken from the Gelasianum.
Un frammento di Messale del X secolo in un registro conservato nell'Archivio di Stato di Cremona
digital
The archival volume Cremona, Archivio di stato, Comune di Cremona, Doni, lasciti, depositi, b. 21, is part of a register formerly in the archive of S. Agostino in Cremona (OESA). A 10th-Century bifolium has been re-used as cover for the binding of the incomplete register in the 16th/17th-Century. The script of the fragment points to a Northern Italian origin; the text is a portion of an early Missal, descending from the Sacramentarium Gregorianum.
Consulta l'archivio
Ultimi 3 numeri
Annate disponibili online
Fascicoli anno
2023