Ilaria Ramelli
Titoli dell'autore
1 Tim 5:6 and the notion and terminology of spiritual death: Hellenistic moral philosophy in the Pastoral Epistles
digital
A close relationship exists between 1 Timothy and Hellenistic philosophy, especially Stoicism and (Middle) Platonism. A remarkable parallel is found between 1 Tim 5:1-2 and Hierocles the Stoic's doctrine of oikeiosis. A similar parallel between the notion of spiritual death, as it is expressed in 1 Tim 5:6 and in broadly contemporary authors influenced by Roman Stoicism and Middle Platonism, proves that the author of 1 Timothy knew and adapted conceptions drawn from the Hellenistic moral lore and philosophy of his day. In 1 Tim 5:6 the notion of the spiritual death of the immoral person appears connected both to Paul and to the philosophical landscape of the early Empire (Middle- Platonic and Neo-Stoic). Philo occupies an important place in this tradition, which has remarkable developments in Origen. 1 Tim 5:6 is basic for Origen's conception of spiritual death. The author of 1 Timothy has a deep knowledge of Hellenistic philosophy, especially Stoicism and Platonism, not only of single points or details, but of crucial philosophical conceptions, which he consciously employs for his own paraenetic discourse. This proves consistent with the long-recognised fact that the Pastoral Epistles represent an attempt at adapting Christian Pauline communities to their Hellenistic cultural environment and making them less suspect in the eyes of Graeco-Roman society.
Bardesane e la sua scuola, l'Apologia siriaca ascritta a Melitone e la Doctrina Addai
digital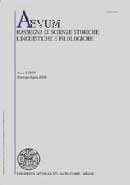 The relationship between Bardaisan (and his school) and three Syriac documents has been so far overlooked by scholars. I shall here analyse these documents and endeavour to point out their connections with Bardaisan's milieu. 1) Striking correspondences are highlighted, in thought and even in expression, connecting the Syriac apology ascribed to Melito with the so-called Liber Legum Regionum, stemming from Bardaisan's school, and some authentic fragments of Bardaisan. 2) According to Moses of Chorene and Barhebraeus, the original nucleus of the Abgar-Addai legend, subsequently expanded into the Syriac Doctrina Addai, was included in Bardaisan's historical work (which Moses calls History of Armenia). Also in the light of Eusebius' knowledge of Bardaisan's work against Fate, I suggest that the initial part of Eusebius' account of the Abgar-Addai legend may derive from the aforementioned historical work. 3) The Syriac Acta Thomae ascribe to Thomas, the apostle of India, a remarkable part of Bardaisan's argument against Fate, as attested in his Katà Heimarmenes (partially preserved by Eusebius in Greek) and in the Syriac Liber Legum Regionum. This convergence is all the more significant in that Ephraem attests that apocryphal Acts of Apostles were composed by disciples of Bardaisan.
Nuove osservazioni per lo studio del rescritto di Adriano sui Cristiani
digital
The interpretation of Hadrian's legislation concerning the Christians is here brought into focus. On the basis of already discussed evidence and of new attestations, especially from the apologist Justin's Dialogue with Trypho, the suggested interpretation of Hadrian's normative text to Minucius Fundanus is that the Christians were to be condemned only if guilty of specific crimes, not simply for their nomen Christianum. Beside, the apologies of Quadratus and Aristides are to be dated under Hadrian, before AD 125, and their probable location in Athens (just as the setting of Justin's Dialogue is in Greece in Hadrian's days) seems to be significant in relation to a philhellenic emperor. If they were written at the beginning of his reign, they probably influenced Hadrian in his attitude toward the Christians.
Fonti note e meno note sulle origini dei Vangeli: appunti per una valutazione dei dati della tradizione
digital
The present article offers a critical analysis and assessment of the first Patristic attestations that we have at our disposal concerning the origins of the canonical Gospels: Papias of Hierapolis, Polycarpus of Smyrna, Irenaeus, Clement of Alexandria, Origen, Eusebius. Interesting and scarcely studied evidence of the composition of the Gospels, and in particular of the Gospel of John, provided by Theodore of Mopsuestia, is also presented and commented on, in the context of the historical and exegetical tradition of the so-called School of Antioch.
Il Chronicon di Arbela: una messa a punto storiografica
digital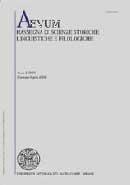 Il presente articolo cerca di affrontare la discussa questione del valore storico del Chronicon di Arbela, documento siriaco del VI sec. d.C. sulla cui autenticità, almeno, oggi non sembrano più sussistere i gravi dubbi che in passato erano stati avanzati. Sono proposti, su fronti diversi, molteplici argomenti che contribuiscono a mostrare come il Chronicon sia un documento affidabile, che presenta numerosi riscontri con fatti e situazioni attestati per altre vie. Anche se, come tutte le fonti, non va trattata senza una prospettiva critica, questa opera storiografica sembra offrire una documentazione di notevole interesse.
Tracce di Montanismo nel Peregrino di Luciano?
digital
Nel Peregrinus di Luciano si rilevano indizî di una vicinanza di Peregrino Proteo al Montanismo: egli è espulso dalla comunità cristiana per assunzione di cibi vietati, è profeta e tiasiarco, autore di miracoli, avversa il potere costituito, affetta ascesi, disprezza ostentatamente la morte e ricerca un martirio spettacolare. Infine si studia l'accusa anticristiana di irrazionalità e la questione dell'identità del Celso lucianeo.
Il senatoconsulto del 35 contro i cristiani in un frammento porfiriano
digital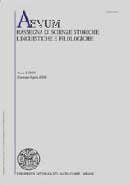 Un frammento porfiriano (fr. 64 von Harnack) conferma la notizia di Tertulliano, Apol. 5, 2 sul senatoconsulto del tempo di Tiberio che, rifiutando la proposta dell'imperatore di riconoscere il Cristianesimo, faceva di questa religione una superstitio illicita, i cui seguaci potevano essere messi a morte come tali. È l'inizio della legislazione anticristiana e la base giuridica delle persecuzioni.
Abgar Ukkama e Abgar il Grande alla luce di recenti apporti storiografici
digital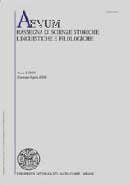 Alcuni recenti apporti critici consentono di formulare nuove ipotesi sulla cronologia e sulla storia della dinastia abgaride a Edessa, in particolare riguardo ad Abgar Ukkama, nel I sec. d.C., e ad Abgar il Grande, in età severiana.
Cristiani e vita politica: il cripto-cristianesimo nelle classi dirigenti romane nel II secolo
digital
Il presente studio indaga il rapporto tra i Cristiani, specialmente delle classi dirigenti, e la vita pubblica nell'Impero dei primi tre secoli, con particolare attenzione al II sec. e agli aspetti prosopografici ed archeologico-epigrafici. Si cerca di delineare come la particolare situazione giuridica del Cristianesimo nel II sec. abbia favorito nei suoi adepti l'astensione dalla vita politica e la circospezione nell'impiego di segni manifesti della propria fede.
Recensioni - Articolo 6
digital
Recensioni - Articolo 9
digital
Consulta l'archivio
Ultimi 3 numeri
Annate disponibili online
Fascicoli anno
2022