Marta Sordi
Titoli dell'autore
Il sacrificio del Foro Boario e la memoria della minaccia gallico-siracusana contro Roma
digital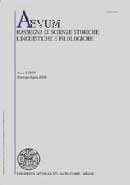 In his Historiae (XXII 57, 6) Livy wrote that during the year 216 a.C. two human couples, a Gallic one and a Greek one, were buried alive in the Foro Boario as an extraordinary sacrifice. A prophecy written in the Sybilline books claimed that Rome would be conquered by Greeks and Gauls if this sacrifice was not performed. In Rome this rite was banished in 97 a.C., but the presence of a couple of Greeks and Gauls buried together is difficult to explain. However, this rite can be considered a memory of the dangerous situation Rome had to face in the IVth century. Between 386 and 331 a.C. Rome was really challenged by Greek and Gallic forces because of the aggressive policy of Siracusa. Dionisius I and Dionisius II of Siracusa employed Gallic mercenaries settled in Apulia and Campania amongst their troops in order to fight against Cere and her allies, that is Rome and the Etrurian cities.
È di Cipriano il Carmen ad quendam senatorem?
digital
The Carmen ad quendam senatorem (CSEL, 23, 227-30) is commonly thought to be originated in the 4th or 5th Century. On the contrary, it cannot belong to the late 4th Century because Christian religion is mentioned as secta improba, that is a religio illicita, which is not the case in the late 4th Century. It must be earlier. The Carmen belongs to a period of peace, not of persecution: in the 3rd Century such a period could be the reign of Philip the Arabian or the first years of Valerian. The Carmen shows similarities with the Carmen apologeticum of Commodianus, and Commodianus was a disciple of Cyprian. Cyprian or one of his disciples could be the author of the Carmen.
Il mito di Telefo e gli Arcadi in Italia
digital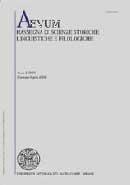 Con la figura di Telefo, arcade, re di Misia e progenitore, secondo Licrofone, degli Etruschi, il mito arcade passa in Italia, come quello di Enea, attraverso l'Etruria. A causa dell'identificazione, presso gli antichi, degli Etruschi con i Pelasgi, questo mito può essere collegato anche con la presenza, attestata dalle fonti, dei Pelasgi in Arcadia.
Note senofontee
digital
Sono puntualizzate alcune problematiche relative a Senofonte: il suo soggiorno a Scillunte e la probabile fondazione, in tale occasione, di una colonia; l'attribuzione allo stesso Senofonte, dopo il 411, dell'Athenaion Politeia, confermata anche dalla replica in essa contenuta, a due discorsi periclei.
Il senatoconsulto del 35 contro i cristiani in un frammento porfiriano
digital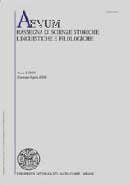 Un frammento porfiriano (fr. 64 von Harnack) conferma la notizia di Tertulliano, Apol. 5, 2 sul senatoconsulto del tempo di Tiberio che, rifiutando la proposta dell'imperatore di riconoscere il Cristianesimo, faceva di questa religione una superstitio illicita, i cui seguaci potevano essere messi a morte come tali. È l'inizio della legislazione anticristiana e la base giuridica delle persecuzioni.
La svolta del II sec. d.C. e la nascita del concetto ecclesiale di 'martire'
digital
Usato nel greco classico nel linguaggio giudiziario e storiografico e nel Nuovo Testamento per indicare il testimone, m£rtuj assume nella seconda metà del II sec. d.C. un significato tecnico ecclesiale per designare colui che muore per la fede cristiana. Fu l'eresia montanista a spingere la Grande Chiesa a chiarire il significato del 'vero' martire e la natura del martirio «secondo il Vangelo».
L'athenaion politeia e Senofonte
digital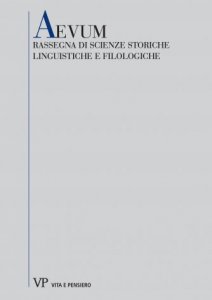 Recensioni - Articolo 8
digital
Alla ricerca di una «democrazia diversa»: da Tucidide a Dione
digital
Recensioni - Articolo 7
digital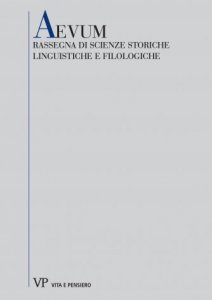 Margherita Guarducci (1902-1999): in memoriam
digital
L'Europa nel mondo greco e romano: geografia e valori
digital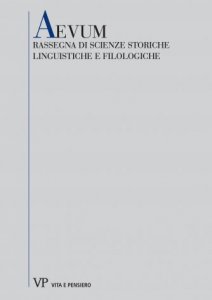 Consulta l'archivio
Ultimi 3 numeri
Annate disponibili online
Fascicoli anno
2022