I graffiti del battistero di Castiglione Olona
digital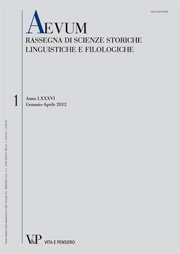 Ebook in formato Pdf leggibile su questi device:
The Baptistery of Castiglione Olona, built at the will of Cardinal Branda Castiglioni and frescoed by Masolino da Panicale in 1435 ca, has been used as the private chapel of the Castiglioni family for centuries. More than two hundred graffiti have been written on the walls from the 15th to the 20th century. They are manifold and include expressions of religious devotion, comments about the frescoed scenes (representing the life of St. John the Baptist), notes of local history. The most interesting graffiti are records of death, which include the dates of death (spanning over two centuries, from 1463 to 1693), the names of the dead and their titles.
The dead are mostly members of the Castiglioni family. A large number of graffiti are visitors' signatures, datable from the 16th to the 20th century.
Consulta l'archivio
Ultimi 3 numeri
Annate disponibili online
Fascicoli anno
2013