Pallida regio. Paesaggi infernali nella poesia di Claudiano
digital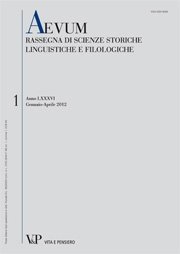 rivista
AEVUM
fascicolo
AEVUM - 2013 - 1
titolo
Pallida regio. Paesaggi infernali nella poesia di Claudiano
autore
Roberto Mandile
editore
Vita e Pensiero
formato
Articolo |

Pdf

online da
01-2013
issn
0001-9593 (stampa)

|

1827-787X (digitale)
Ebook in formato Pdf leggibile su questi device:
The representation of the infernal landscape is important in Claudian's De raptu Proserpinae and in his In Rufinum as well. In the first poem, the underworld is described when it paradoxically joins with the living world: the ambiguity of its features reflects some sort of overlapping between the two worlds, a confusion which is caused by an event destined to change the cosmic order forever. In the In Rufinum, the close link between the underworld and the protagonist, nursed by the Fury Megaera, finds its ultimate expression at the end of the invective: Rufinus' descent to Tartarus after his death and his punishment are functional to emphasize the demonic nature of the Praetorian prefect, incarnation of the evil itself.
Chi ha visto questo prodotto ha guardato anche...
Consulta l'archivio
Ultimi 3 numeri
Annate disponibili online
Fascicoli anno
2013